Oh, so you've met him, then…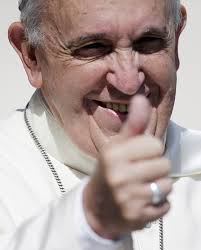 A psychiatrist has given an op-ed to LSN about the "excessive anger" the man everyone calls Francis seems to display all the time towards his predecessors (and towards everyone else.)
Here, let me help with that.
There's this thing that malignant narcissists do. It's called "narcissistic rage," and it comes in weird, scary bursts whenever someone calls them on their crap or looks like he's going to see through their web of lies.
There's a whole Wiki page on it:
Narcissistic rage is a reaction to narcissistic injury, which is a perceived threat to a narcissist's self-esteem or self-worth…
Narcissistic injury occurs when a narcissist feels that their hidden, 'true self' has been revealed. This may be the case when the narcissist has a "fall from grace", such as when their hidden behaviors or motivations are revealed, or when their importance is brought into question. Narcissistic injury is a cause of distress and can lead to dysregulation of behaviors as in narcissistic rage.
Narcissistic rage occurs on a continuum from instances of aloofness, and expression of mild irritation or annoyance, to serious outbursts, including violent attacks and murder…
It has also been suggested that narcissists have two layers of rage. The first layer of rage can be thought of as a constant anger (towards someone else), with the second layer being a self-aimed wrath.
Narcissists use their rage to produce a constant state of dread in their victims. This is why his curial officials are said to be "terrified" of him.
Guys, he's really not "confusing". You just have to accompany him and see where he's coming from.
~