You can't take the sky from me
I am not an expert pray-er. In fact, I'm a lousy pray-er. I'm certainly the worst oblate in the world.
I just wanted to get that out there from the start.
Some time ago, I went to visit some sisters in another part of Italy. We had a long and interesting discussion about the various merits of the modern English language "Liturgy of the Hours," which she and her community used, vs. the traditional Latin Divine Office, which I and mine use. (I'm certainly not any kind of expert on the Office but one of the things that pushed me to Trad – yes, that's a verb now – was using the LotH and suffering through its manifest and manifold deficiencies.)
At one point in the discussion my young nun-friend asked me, "What's stopping you from praying the full Divine Office every day?"
And there's only one possible answer to that: me.
I'm stopping me from praying the full Divine Office every day.
(Bloody nuns! How do they get so danged perspicacious? And she was under thirty!)
And nothing else.
Nothing can stop us from praying up a storm. Nothing but ourselves. This is the fundamental reality of our Faith. It is, ultimately, yours to act on.
You don't need to know Latin. (In fact, there's a perfectly acceptable translation right next to the Latin in my Breeve.) You don't need to carry a book around with you. You don't even need to carry a Rosary in your pocket. God gave you ten fingers for a reason.
And this is my solution. No one can stop us. It's ours.
The other day I did a piece for Steve Skojec (and the useless blighter went on holiday instead of posting it… ) that I am hoping will provide an answer to the question we remaining Catholics have: what do we do now? We're in a state, aren't we? We're more or less helpless to do anything to stop the catastrophe that we see coming straight at us. We can do nothing about this pope or his plans.
But, though it does affect us, and could continue to affect us more and more, it can't stop us. It can't stop us being Catholic; praying, sacrificing, practicing the virtues, rooting out our faults, reading holy books, petitioning the saints, praying the Rosary, even if we have to use our fingers.
Frankly, with all the canonical revisions in the world, it can't even stop us living the religious life, banding together – whether virtually on the internet or even in person, sharing housing and praying together. The pope and the Vatican don't make the religious life. God makes it. God calls us to it, and we respond. It is an integral part of the Faith and can't be killed, even by the worst pope in history.
Why? Because Christians are free.
In my thing for Steve (which I'M SURE WILL BE PUBLISHED ANY SECOND NOW!) I said:
The simple fact is that lay people can do pretty much whatever they want, and no bishop anywhere can do anything about it. And no secular government would care either. We perhaps forget sometimes that the Christian is radically free in a way that transcends the limitations of politics, even Church politics. We know from the Catechism of the Catholic Church that we are free to make choices about our lives, about the direction we will take either towards or away from God.
"Freedom is the power, rooted in reason and will, to act or not to act, to do this or that, and so to perform deliberate actions on one's own responsibility. By free will one shapes one's own life. Human freedom is a force for growth and maturity in truth and goodness; it attains its perfection when directed toward God, our beatitude."
No pope, no bishop, no conclave or band of vicious heretics, no matter how powerful, no government or oligarchy can do anything to stop us making the choice for Christ, to live a life of holiness and peace.
I'm going to share something with y'all now. I've been returning more and more lately to the thought of religious life, the consecrated state. What with everything, between this pope and his revolution against Christ, the earthquake and its consequences for the religious life of this town, I have been turning more and more back to the idea not only that I would "like" to be in religious life, but that I must give myself to God in this radical way.
But, as we have seen, there's a bit of a problem with that. Formal religious life is under severe attack right now. It was all but destroyed following the Vatican II Asteroid, and those of us who were of the right age at that time were faced with a horrifyingly empty, scorched landscape. There was nowhere to go. Twenty or thirty years later, there are just now starting to appear little sprouts, small and mostly isolated communities starting up who are consciously pushing back against the revolutionaries. But now, of course, our cohort – born in the 60s – is too old for such ventures, even when we can find them.
And now we have Francis, and a new wave of the scorching has started, and we have no idea who is going to survive this time. A conversation I once had with a high-ranking Curial Cardinal – a man who had been prominent in the Curia of Pope Benedict and was an acknowledged "Ratzingerian," and who was immediately exiled by the new regime for it – told me straight up that this regime is aggressively moving to return the Church to 1976 and is making plans to ensure it stays there permanently.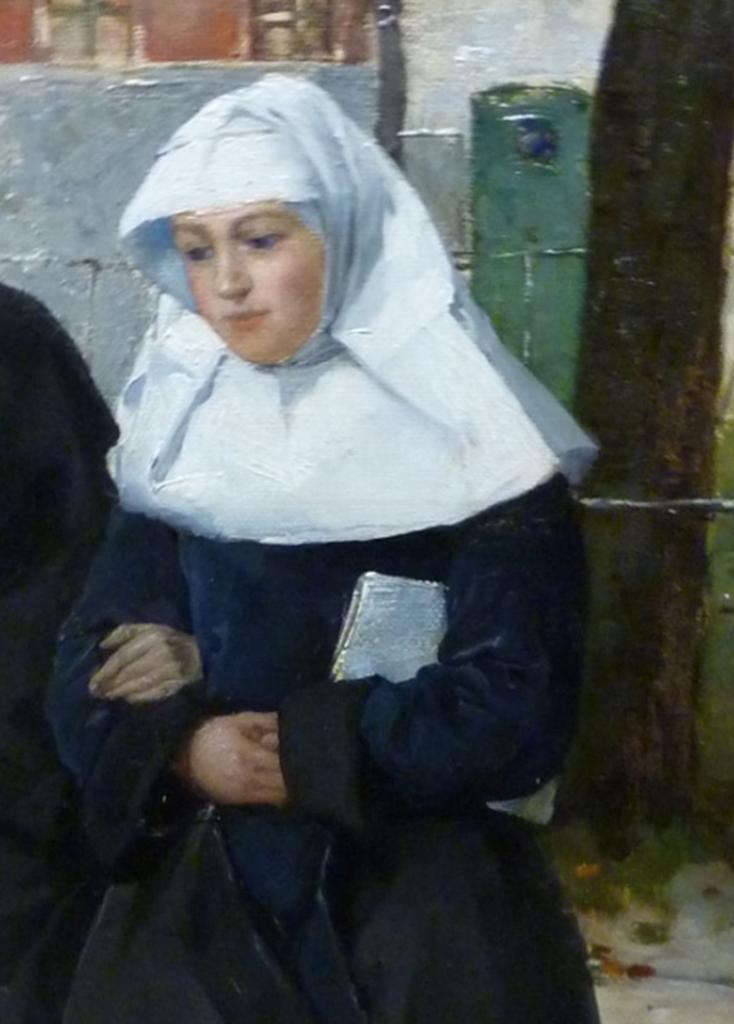 So one would think that this is the worst possible time to be starting something tradition-minded, something that consciously revolts against the disco-era trends we are seeing being revived throughout the Church. The natural response is to get one's head down and keep it down until the storms have passed. But I'm starting to see that this is "thinking the thoughts of time," that is, it is prudence only of a natural kind. God generally has a sense of timing that tends to surprise us, and His ideas of an ideal circumstance are quite different from ours.
A few weeks ago I was very moved by the piece by Fr. David Nix in which he described the agonies he is experiencing as a priest under this current regime of chaos. He related that, though he does not "hear" things in prayer, he had quite a distinct response from God on a day when he was complaining bitterly about it all: "My Church is being crucified; will you leave her?"
I will never forget these words. They not only brought courage to my heart; they brought clarity to my mind: The Church must go where her Bridegroom has first gone, and this would come — as with Judas — as the fruit of a betrayal from within. Our Lady of Good Success promised a "complete restoration" after a prophecied crisis that was described very much like what we are witnessing today. I had seen that the Church was enduring a crucifixion, but how had I missed that after this would come a resurrection? If Paul VI could say that "the smoke of Satan has entered the temple of God," then I am surely not disobedient or schismatic for pointing out that we now have a full conflagration.
A conflagration. That's what this is. The Church is suffering an unprecedented crisis, a martyrdom that has been white but seems to be turning crimson.
With this in mind, I think the question must be not, "Where do we hide. How do we survive this with our homes and way of life intact?" The impulse to protect our comforts is deadly to the virtue of fortitude, courage, in plain terms. A soldier cannot have his own comforts or even his own survival as his primary concern.
For this reason alone, perhaps, giving up everything, releasing all claims to the natural goods of this life, is simply the most prudent strategy. They can take nothing from us that we can't afford to lose if we have already detached ourselves and renounced the world. All else is ours in a way that can't be taken.
Take my love; take my land;
take me where I cannot stand.
I don't care; I'm still free.
You can't take the sky from me…
Burn the land; boil the sea;
you can't take the sky from me.
Or, as it was put somewhat more to the point:
"Who shall separate us from the love of Christ? shall tribulation, or distress, or persecution, or famine, or nakedness, or peril, or sword?…No, in all these things we are more than conquerors through him who loved us. For I am convinced that neither death nor life, neither angels nor demons, neither the present nor the future, nor any powers, neither height nor depth, nor anything else in all creation, will be able to separate us from the love of God that is in Christ Jesus our Lord."
Some weeks ago, a major earthquake shook our town, as you know, and the result for various complex reasons has been the near total cessation of the Catholic devotional and sacramental life in Norcia.
The monks are slowly coming back, but people are worried. Aapart from the daily monastic Conventual Mass, and Laudes and Vespers, there is no Catholic life here save for one cold, wet, muddy novus ordo Mass offered on Sundays in a tent in a soccer field outside the walls. This shocking situation did indeed shock me into thinking about some things that I had been putting off thinking about.
I came here nearly two years ago with the vague and rather ill-formed idea that I could be an oblate and pray here with the monks, and sort of ride along easily on their monkish coat-tails. Let the boys do the work. Part of the deal of being an oblate is that you get a share in the graces God gives to the monastery. You're part of the club.
This, I thought, would be a good "consolation prize" for having lost the game of nunnish musical chairs. But was I being offered the consolation, or was I really just choosing the easy but second-best thing?
Worse than either of these, was I offering God only what I felt I could spare? Was I trying to negotiate with Him? "You can have this much of me, this much of my time and attention, and the rest is for me…"?
Was it any wonder that, despite the great riches I had acquired in this wonderful place – daily Mass and the full Divine Office in the traditional rites, a community of monks who seemed happy to adopt me, a town of the kindliest and friendliest people in the world, a lovely little home and garden, a glorious natural setting – it was all falling flat on my heart.
The other day a friend, who was a carmelite nun for three years, said, "Without self-gift it's all empty, basically?"
"I used to wonder if food was happy or sad being taken off the stalk, cooked and eaten. Now I know for sure they are happy, and the ones who stay on their comfortable vine are sad."
Yes. That.
I said more or less exactly the same thing once, a long time ago, to a Benedictine monk I knew in Quebec; that I've got a nice life, good friends, a good job, a good parish and a decent Catholic life. I'm happy. My friend said, "But it's the wrong kind of happiness." I nodded, almost crying. He smiled and said, "That's the call."
But what can be done about it now?
I'm fifty. Fif-TEE!
And even I weren't, I'm a Trad. The more things develop along the Vaticantwoist path, the more of a Trad I become. I knew when I went to almost go into a Benedictine monastery in Vermont: I can't do this. I can't devote myself to the novus ordo thing. It's not my religion. And this reality means I'm more or less automatically shut out of nearly every recognised canonical religious order, convent and community in the Catholic world.
And I'm not a sede, and never will be, so there's no answer there. I know too much for the novusordo places; the Traditionalist places are barely hanging on and with how vocal an opponent of the regime I've been it would be impossible for them to accept me if they are just part of the novus ordo, diocesan scene and aren't attached to the SSPX. It's obvious that there is simply no place in the world I can go.
But there's the call. It's unmistakable, persistent, specific and un-ignorable.
But here's where my logical mind starts working: if there is a call, it is impossible that it is impossible. God doesn't play with us. There has to be some way.
If Steve ever posts that thing, you'll learn what I've come up with.
~