Eeeeviilllle… like the froo-eets of the devillllll…
The other day The Skodge suggested that the pope and his little band of incompetent minions are starting to feel a little … errrmm… pressed. A little hemmed in by the opposition. So, taking the initiative, they've lashed out at anyone who opposes them. Not for the first time, of course.

Maleficent on the minion problem.
Today, Pope Francis complains loudly about the wicked, wicked folk who still think that Our Lord and Saviour Jesus Christ, the Second Person of the Holy Trinity isn't a liar.
"…Rigid people lead a 'double life,' they seem good but they often aren't; they are strangers to God's freedom, 'slaves of the law'. 'How they suffer'!
Here's Francis' thoughts on the minion problem. Not that different, in essence I guess:
Francis said: "beneath rigidity there is something hidden about a person's life. Rigidity is not a gift of God. Meekness is; kindness is; benevolence is; forgiveness is. But rigidity is not! Beneath rigidity there is always something hidden, in many cases a double life; but there is also some sort of disease lingering there. How the rigid suffer: when they are sincere and they acknowledge this they suffer! Because they are unable to feel the freedom that God's children feel; they do not know what it is like to walk in the Law of the Lord and they are not blessed. And they suffer so much!" They seem "good because they follow the Law; but beneath that there is something not so nice about them: either they are bad or they are hypocrites or they are ill. They suffer!"
"Either they are bad or they are hypocrites or they are ill." See, this is what makes me think that Jorge's philosophical education has been lacking. There is another logical possibility.
…
Meanwhile, I thought y'all might like to see a photo of the huge crowds crowding the Via delle Conciliazione in Rome for the "pilgrimage" for the Jubilee Year of Mercy…
YYYUUUUUGEE!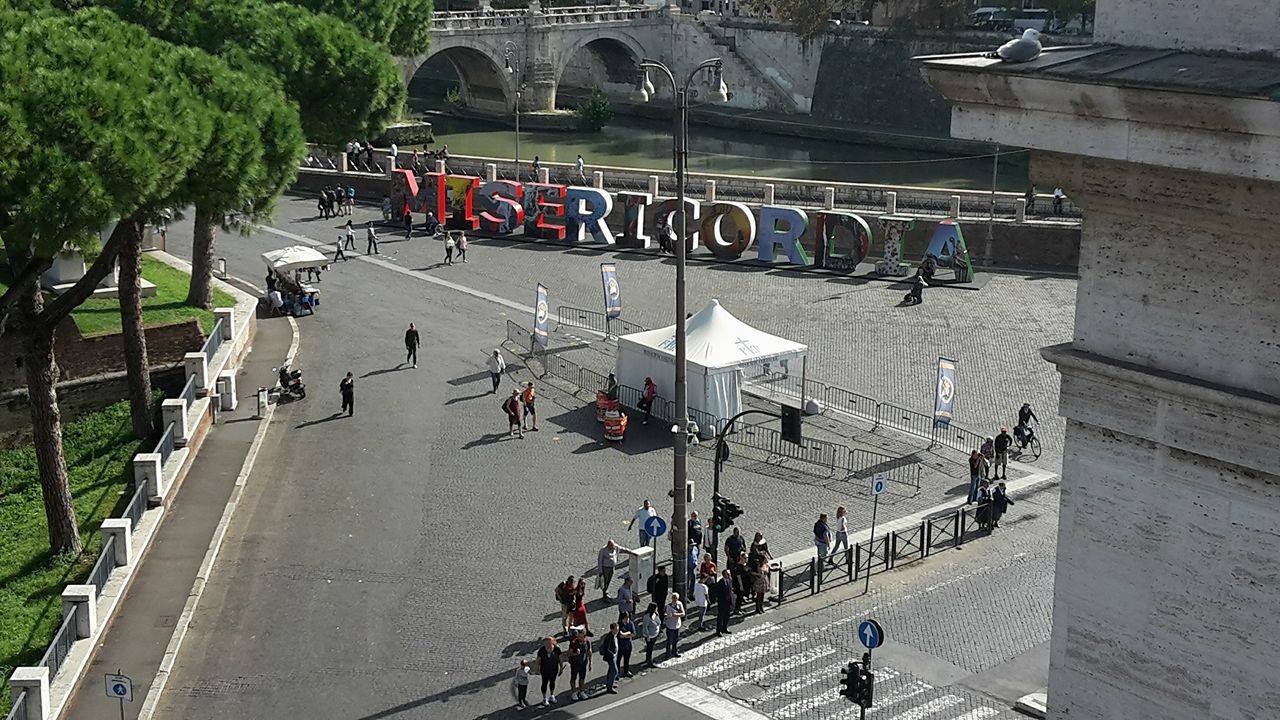 Taken today.
This is the piazza that is attached to Castel Sant Angelo, (that's to the left outside the photo) the big bit of fortressery outside the Vatican at the terminus of the Via delle Conciliazione, on the Tiber and just in front of the famous Bridge of Angels. It's a popular place for tourists, buskers, street vendors, gypsy pick-pockets etc.
The little empty white tent in the photo is where you start your "pilgrimage" up the street to St. Peter's which is the thing set up by the Jubilee of Mercy in Rome to fulfill the requirements for the plenary indulgence… (if we still believe in such things, that is).
Recently the Vatican issued a press release – that has been thoroughly mocked by everyone I know in Rome – claiming that thus far 15 million pilgrims have come to Rome to do this.
A pal who is good at figures tells me that this would necessitate about 50,000 people per day doing this little route.
I know that some people have done it. You go, they say, to this little tent and fill in a form. They hand you your package of materials that includes some prayers and perhaps a hat. And a wooden cross. Along the Via delle Conciliazione they have cordoned off with bollards a section of the road for the 50,000 pilgrims a day who are crowding the route…
oh…
wait…
It's not just that we all seem to have more or less forgotten about this absurd publicity stunt Francis concocted to promote his wicked plans to subvert Christianity, it's that they all seem to have forgotten about it too. It doesn't take much perspicacity to see that the "Year of Mercy" was of no more interest to this cabal than any other of their stunts. It was a minor item in their strategy list, and quickly got engulfed by their much larger and more important plans for the pair of Synods and the subsequent Exhortation of Desolation to follow.
People still taking Catholicism seriously – the kind of people who pay attention to things like Jubilee Years and plenary indulgences – are simply not part of the plan.
It is a matter of no moment to them at all that they are caught in really, truly outrageous lies with regards the numbers. Indeed, wildly and brazenly exaggerating the numbers at your events is kind of an Italian hobby. For the world outside Italian politics, ecclesiastical and secular, claiming a ten-fold or hundred-fold overestimate of your event attendance is what we harshly judge to be a "lie". But for Italians this is just how things are done.
So… anyway… the actual Jubilee Year of Mercy, having immediately fulfilled its actual purpose as a strategic press release, limps alongs in its alternate, secondary reality as a Catholic devotion.
~