How many fingers am I holding up now, punk?!
Or maybe you need another little TRIP DOWN THE STAIRS TO CLARIFY YOUR THOUGHTS!
~
Sneak peek of my latest for One Peter Five:
How many fingers is the pope holding up now?
Amoris Laetitia and submission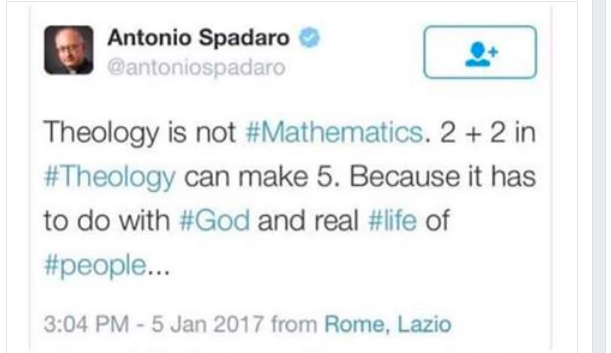 We are seeing, increasingly, that in the Church it is Positivism that is the philosophical foundation of the post-conciliar revolution. This is why we who write about this situation have started using the term "Papal Positivism" for the idea that the pope can, through some kind of mystical power granted by his office, decide that it is time to change Eucharistic practice to oppose Eucharistic doctrine.
Moreover, the furious response to the Dubia by many prelates in favour with the pope, with hysterical accusations of "schism" being flung at the four cardinals, shows us where Positivism leads. Amoris Laetitia demonstrates that as a guiding principle, Papal Positivism reduces to an exercise in sheer political power, predicated on an assumption of a pope's godlike capacity to change, or just ignore, the very nature of reality.
One might say that Amoris Laetitia is the four fingers being held up before the whole Church, with the demand that we all say it is five. The actual content, the actual number of the fingers, is irrelevant. The only thing that counts is our eagerness to submit.
~
No, I haven't forgotten about this blog, or quit. But I don't really quite know how to explain my reluctance to write about it all.
Maybe the quakes have taken some of the fight out of me.
Or maybe it was just Christmas doldrums.
But I'll be back. Soon. I promise. And not "Soon-soon" but for realsies.
~