The fun never ends: more quakes and a call for help

Well, I was rather rudely snapped back to the here and now this morning as reports poured into my various inboxes about the latest round of earthquakes.


This, ladies and gents, is what a "swarm" looks like.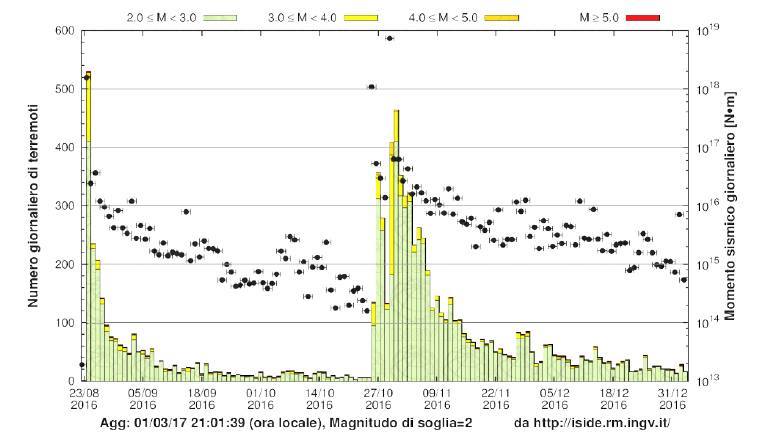 I recently commented on FB that the pattern the quakes have shown, with one really big one followed by a month or more of diminishing "scosse" then another huge jump, seems not to be over. Maybe we have to wait until the Big Ones get small and the little ones get so small they can't be registered. Who knows how long that will be, if so.
The good news is that of course, this latest is probably not going to kill or hurt anyone. Amatrice, the town the epicentre was closest to (and where it all started in August) is already not much more than a huge pile of rocks and no one has lived in it since August. in Norcia we have a similar situation, with the town's population reduced to about 1500 residents, plus a handful who commute to run their businesses from hotel accommodations in Spoleto and elsewhere.
I texted a friend up there who runs his little shop now out of a portable outside the walls and he said everyone's fine. The portables, converted containers, tents and campers everyone there is forced to live in are more or less earthquake-proof.
The business district of Norcia outside the city walls and down the hill a bit, the "Zona Industriale," has mainly remained open and now also houses a great many people who stayed to get their shops running in some capacity. Since just before Christmas, the main strip of Norcia has reopened and there are a handful of businesses running along it, just a few norcinerie, tabaccherie, a pizza place and a restaurant I've seen are going.
All the very rock bottom basics are now functioning there: supermarkets reopened before Christmas, the farmacia have temporary shops and you can buy needful things like hardware and even gardening stuff. There was even one business  – the Bar Parisienne – still operating in a place inside the wall, its ancient stone vault apparently having withstood all the quakes since August like water off a duck's back. (It was great to go there and see and greet all the neighbours I knew having a coffee like it was just a normal morning.) A parking lot just outside the Porta Ascolana has been transformed into a little village of portables where the banks and various utilities have set up offices and there are a couple of secure bancomats running.
Down the old Roman road into the Piano di Santa Scolastica, where in ancient times there were dozens of farms and housing for up to 40,000 people (mostly agricultural slaves at the height of the old Empire) are now a long row of factories that process the famous Norcia sausages, plus a few other larger scale businesses like the chocolate factory. These are all still running, and as far as I have heard have not laid off anyone.
But very little can be done about anything until the weather turns. To add insult to injury, Umbria is experiencing one of the coldest and snowiest winters in years. Normally this is the kind of winter I love best but in a disaster zone, it's getting to even the stoic and courageous Nursini.
Most of the centro remains "Zona Rosa," with only the main street and a little bit of the piazza opened as a token, mainly to fulfill the mayor's promise to open the centro by Christmas.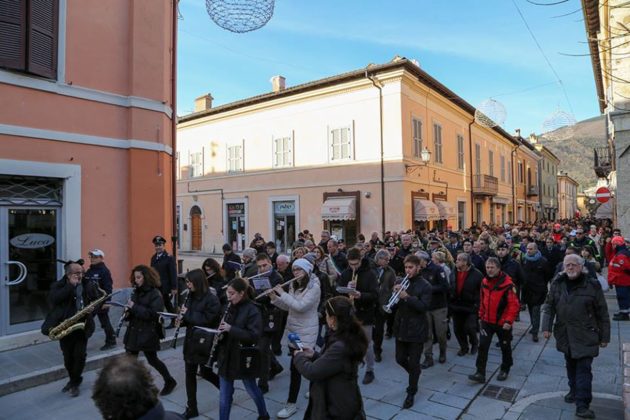 There was even a parade down mains street.
Things are slowly starting to come back to life, but it's going to take a long time for tourism to get started again, and let's face it, that was the bulk of the bread and butter for most people there. Not only have the hotels nearly all closed (there's one agritourismo that is still able to receive guests) but of course even if they were open, there is nowhere for the staff to live. Reports in the Umbria Journal say that between 65 and 76% of all the housing stock in Norcia is "inagibile". It's not collapsed or destroyed (as all the churches are – ALL) but technically unsafe and not fit for use. (This includes my own house, but not my flat. I can go into it, and even stay over night, but I can't live there full time until the structural damage is repaired and it's been cleared by the city engineers.)
Driving around town when I went up in early December, we saw very, very few houses that did not have visible structural damage. Not many totally collapsed (though there were a few of these) but huge cracks, large portions of facing having fallen, portions of roofs collapsed, and in some cases most of the house standing, but a whole wall collapsed in a heap in the garden. Many of the houses that are still technically standing are going to have to be completely demolished.
This means that even if they had jobs to go to, it would be close to impossible for the majority of Nursini to return. There simply isn't anywhere for anyone to live.
This brings me to my friend Rowel, whom everyone who has ever gone to Norcia will remember. He contacted me today on Facebook to ask for help. Friends who have visited will remember our dedication to the beloved Enoteca Granaro del Monte, one of the many prosperous and friendly businesses of the Bianconi family enterprises. Close enough to the Basilica that one can pop in for a quick coffee or aperitivo before Vespers or go for a lovely tea and biscuit after Mass. A nice place to go for a drink and a snack, or even a full meal and hang out with friends. If you wanted to meet up with someone in Norcia, all you had to do was sit there long enough.
The excellent wifi and warm atmosphere, and being the centre of a big community, were irresistible, and we used to joke that I should start paying rent on the little table closest to the wall. In the last few years, a good deal of my best work was written in that spot. And Rowel Marasigan, the head barista there, was the guy at the centre of it. He used to be able to almost read my mind when I went in. Friends who came to visit will remember his dedication to service and friendliness with everyone.
Well, like so many others, Rowel has had to flee Norcia along with his wife and children and big, extended family – all of whom, it seems, came to live in Norcia from their native Philippines – and go camp out in hotels in Perugia.
There's no question that when the hotels open again (and I've confirmed with the Bianconi brothers that this is on the way) Rowel will take up his post again. But until then, he and the family could use some help. He said he's found some part time work in Perugia, but it's not enough, and though the municipality has promised residents to pay a stipend, no one has yet seen any actual money appear.
He contacted me on Facebook today more or less asking to borrow 500 euros. I can't afford it, but I said I could probably help another way. I bullied him into setting up a Paypal address which he'd never done before, and then I would put out an appeal on my blog to my very generous readers.
I know a number of y'all have asked if there is a way to help individual people, to donate to them directly and skirt around the red tape and complications of going through the agencies. Well, here it is. Rowel is a great guy, and it seems a lot of people count on him as a husband, a dad, a son, a brother, a cousin… He's one of my neighbours and I hope fervently we can all be together again. Until then, please help if you can.
Thanks.
To donate to Rowel Marasigan, use his email address in Paypal: rowelmhayie@gmail.com or go to his direct Paypal thing here.
~