Be ecumenical, or ELSE!

There's really not much to say about this. A Catholic Church was hosting a "celebration" of the Reformation, the day when Martin Luther split Christendom asunder and launched the post-Catholic age of war, tyranny and chaos. A small group of Catholics attended the event and knelt down and started praying the Rosary. Hilarity ensued.
The group disrupted the ecumenical service by reciting the rosary out loud. Police removed a group of young Catholics from the cathedral in Brussels after they recited the rosary out loud, disrupting a service celebrating the Reformation. The Catholic Cathedral of St Michael and St Gudula hosted the service with the United Protestant Church in Belgium, the country's largest Protestant denomination. UPCB president Steven Fuit, who preached at the service, said the event sent a "strong ecumenical signal". However, several young Catholics disrupted the ceremony by reciting the rosary at the back of the Cathedral, preventing the pastor from beginning his sermon.

A video posted on YouTube shows police eventually breaking up the group and escorting them outside.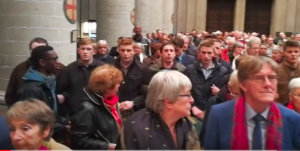 My only comment: get a load of the age disparity.
And check out the females remonstrating with them.
~