Hortus Conclusus… latest for 1Peter5: it's about gardening… but it's not boring! I promise!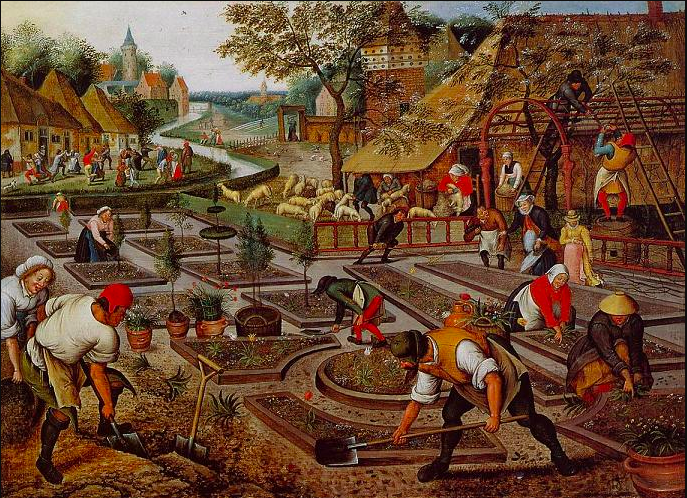 Hortus Conclusus: My Medieval Garden, Inauthenticity, and The Real
I've always wanted a large garden…
Very close to the end of the time I had for looking, and as I was starting to become desperate, I happened upon a little flat, a portion of an old family farm house, on some prime agricultural land at the base of the mountain upon which the ancient city of Perugia sits, like a grand medieval hat. The place itself was nothing special, being only one bedroom and a good deal smaller than what I was used to. But the main reason I took it was the garden; 200 square meters of hard-packed but very fertile Tiber river silt clay.
A Garden Enclosed
As what I now realise was a form of mental therapy, I immediately set about digging[1]. My wonderful landlady, Annamaria, has been tremendously generous and has given me free reign to do whatever weird Anglo thing I wanted, and has allowed me to use whatever materials were lying around. So I decided to do something I've wanted to do all my life; I started building a "Hortus Conclusus," a style of garden based on medieval monastic design and gardening techniques. Practically, this just means narrow rectangular raised beds forming a square, separated by paths around a round centre bed. In these low raised beds medieval gardeners grew a mix of herbs, flowers and vegetables.
The object of this kind of garden was partly practical and partly symbolic. It was meant to provide food and medicinal herbs, but also intended as a place for monastics to sit and pray, to contemplate and relax, as well as to provide an object for the manual labour part of "ora et labora." The result is one of the iconic figures of medieval European culture, a delightful place of retreat where beauty and practicality are not in conflict.
Nearly all medieval depictions of the Annunciation – and of Paradise itself – are set in a fragrant and lovely garden of this kind, symbolising the cloistered, contemplative immaculate soul of the Blessed Virgin, miraculously set aside for this one great purpose. This seamless combining of symbolic, mystical and pragmatic elements was something typically medieval, a culture that knew nothing of the harsh compartmentalising that so plagues the thinking of us Moderns. This multilayered concept of the Hortus Conclusus has become a sort of guiding light for me here.
Before and after:
Honestly, I don't know why I find gardening so fascinating. Maybe because it's like the perfect balance between science and art. I can watch videos and read articles about various methods of amending clay soils, tricks to adjust your soil ph (Did you know that hydrangeas don't come in colours? They get to be different colours, between blue and pink, depending on your soil alkalinity… Now you know a thing…) the carbon/nitrogen balance of compost, the rules for planting based on moon phases… all day long. (Literally. I've done it… and not just for procrastination either…)
And I can talk about it all day long. Except there's hardly anyone of my extremely boring acquaintance who thinks its as interesting as I think it is. All they ever want to talk about is Biblical studies this, Church politics that and liturgy the other thing… (Who's boring again? Really?)
It's why I like talking to Annamaria, even though most of our conversations consist of infinitive-only verbs and quite a lot of gesturing. We talk about our plants, mostly (and I really have picked up quite a lot of gardening-related Italian this way.)
Lots more before and after pics here:
If you like an English style mixed garden of herbs and flowers you have to do quite a lot of work, because really only raised beds and careful soil amendment will produce the results. So, almost as soon as I got here, (and mainly as a form of mental therapy) I started digging. Prozac might work for some people, but I've found one of the best anti-depressants/anti-anxiety drugs is dirt. And of course, for exercise, little can beat lifting tufa blocks, pulling weeds and taking huge overhead swings at the earth with an iron mattock.
~