The Rap Sheet
By Hilary White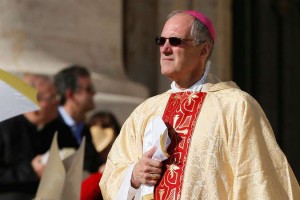 I've just decided that we are going to be keeping a running tab on heresies and/or insane uncatholic nonsense coming out of the Synod from actual bishops. A simple bullet pointed list that will let anyone know at a glance who said what and when, with a link included.
We will also provide, if possible, Facebook and Twitter links so that readers can go and share their feelings in an open and honest manner, as we have been taught all our lives by our hippie leaders to do.
First up is…
Archbishop Paul Andre Durocher of Gatineau, Quebec, who suggested to the pope today that maybe there should be female deacons…you know, just throwing it out there… just an idea…
Here's his blog, Sing and Walk. Here's his facebook page and his Twitter account.
…the synod should reflect on the possibility of allowing for female deacons as it seeks ways to open up more opportunities for women in church life.

Where possible, qualified women should be given higher positions and decision-making authority within church structures and new opportunities in ministry, he told Catholic News Service Oct. 6.

Discussing a number of proposals he offered the synod fathers to think about, he said, "I think we should really start looking seriously at the possibility of ordaining women deacons because the diaconate in the church's tradition has been defined as not being ordered toward priesthood but toward ministry."