The Hell of Bishops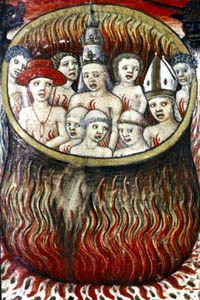 I write this with "fear and trembling". I am a poor, miserable sinner and I am a priest who shall one day render an account "for every idle word," and an account for the souls entrusted to me.
Much, much greater is the responsibility of a bishop. He is personally responsible for the preaching and teaching of all priests and deacons who give a Sunday homily in his diocese. They cannot speak a word without the authority that the bishop-ordinary gives them. And I am only mentioning one of the many and grave duties of a successor of the Apostles.
Here is a word of Blessed Abbot Marmion, whose feast was about a week ago, that is filled with grace and a warning for us all:
Here is another terrifying aspect of the pains of hell: the lost soul is given over to the power of the demons. The nature of these spirits, which is absolutely simple, has been irrevocably deformed. They are entirely evil; their only occupation is to hate and to injure. Although, here on earth, their power is restricted, Holy Scripture describes them none the less as beings to be feared "like lions seeking whom they may devour" (I Pet 5:8). But, in hell, where the damned, abandoned by God, are given entirely into their power, into this exterior darkness, in hell the devils have free play. They cast themselves upon their prey to plague them without respite, to inflict upon them indescribable evils.

Their implacable fury is concentrated especially on the Christian, for in him they see the image of the Man-God. And if the damned soul be that of a priest, its torments will be augmented beyond all description.

In the priest, Satan sees one who formerly, in the name of Jesus Christ, had the mission of thwarting his reign among men. Formerly he was obliged to respect him on account of the priestly character imprinted on his soul. Now that the priest is fallen. rejected by God and deprived of all his power. the devil makes him his plaything.

The mere thought of being thus abandoned without any protection and for all eternity to the rage of the devil is sufficient to chill us with fear. From the bottom of my heart I appeal to you in the name of Jesus Christ: Vigilate: Be vigilant!
And if a bishop were silent before the promotion of a sin that "cries out to heaven for vengeance"? Or, if here coddling it and defending it?
O my Jesus, pardon us. Snatch us from the fires of Hell. Draw all souls to Heaven, and help especially those in most need (literal translation of prayer given to us by Our Lady at Fatima).
~