Everybody's talkin' 'bout it…
Frank Walker has some more thoughts on this that are difficult to disagree with.
I'm hearing lately that we need to stifle these bubbling doubts about Francis actually being the pope. Ann Barnhardt maintains that he is an anti-pope since he resigned under an erronious dual-pope understanding. Benedict felt that he would continue as sort of a contemplative co-pope, therefore his abdication is invalid. Louie Verrecchio and Antonio Socci both make the same case without coming to final conclusions. There is also the issue of pressure, something which would naturally be hard to clearly prove. Finally, there's that St. Gallen group: the existence of an illegal and organized movement of cardinals to install Francis prior to and outside the conclave.
Benedict appears to have left under pressure but it's a difficult thing to prove. The most powerful indicators are the fact that a worldly prince and a heretic was selected to follow him, and that he appears to be under some type of confinement and control today. Francis is the kind of man who would follow a putsch, and this nuBenedict we keep seeing via third party does not sound anything like himself. Instead he seems poorly scripted, muddled, and much more like Tucho Fernandez than Ratzinger.
"Your friendship is the air that I breathe and in which I live?" Wasn't it something like that the Emeritus said to the Francis on his 65th anniversary?
Actually it was worse than that. Addressing Francis: "Your goodness is the place where I dwell and I feel protected…"
Nothing from Ratzinger/Benedict that I've ever read or heard has ever sounded like this repellent drivel.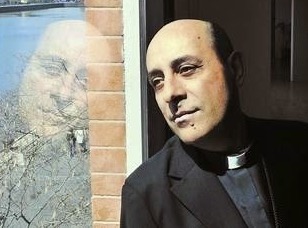 But it sure does have the same creepy, slimy vibe I got from ol' Archbishop "heal-me-with-your-mouth" Fernandez. But as Frank says, all this is more or less effectively impossible to prove.
Frank continues:
Whether Benedict was forced out or his abdication invalidated… it's not the most important thing when it comes to the papacy today.
The main issue is that Francis has clearly demonstrated his heresy, and as faithful laymen it is our responsibility to call for his abdication. He is not able to defend the faith, priesthood, or Sacraments, or to canonize saints, or do any of the things absolutely necessary to preserve the Church. It doesn't matter whether he's pope or not. He should not be pope. He has shown us he is, in fact, incapable of it.
Pretty much.
~