"Norcia is the city of the soul"
By Hilary White
It looks like others are starting to get hold of computers to put up information about their situation. These include a few other ways that people might be able to help.
Latest from the monks: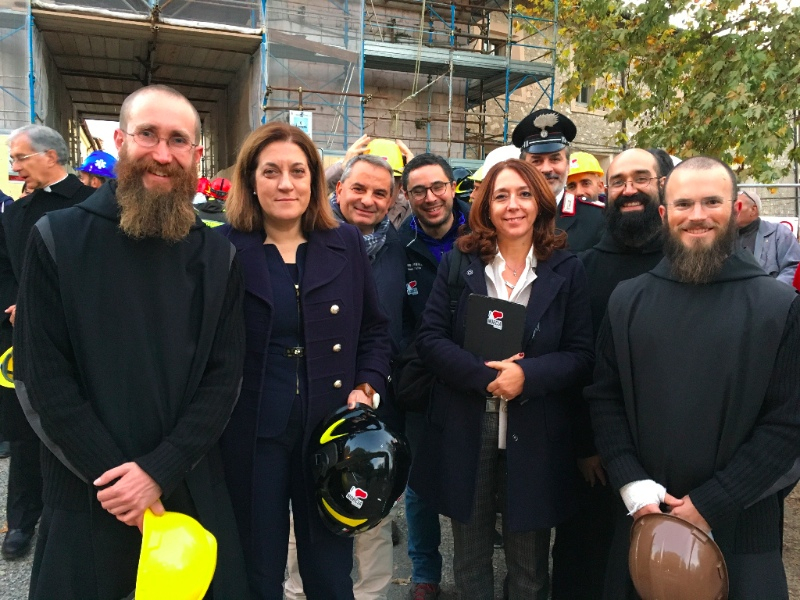 Dear friends,
Our life as monks has entered an entirely new phase, one we never expected but in which we see, unmistakably, God's hand. He asks us to build up our community here on the mountain strongly and decisively based on prayer and conversion so that we might become saints for our time. He also asks us to rebuild the ruins of our monastery at St. Benedict's home and to make it a source of light, hope and truth for monks and nuns throughout the world, as well as for all those who long for God.
In the days of aftershocks since last Sunday's powerful quake that destroyed our ancient basilica and monastery, God has brought calm to our monks' hearts in this new mission. In fact, one of our observers went ahead and received the tonsure and choir cape of postulancy at Vespers the same evening of the massive quake. We offered him the chance to go home, of course, but he would hear nothing of it. That is the way with this earthquake: it binds the monks to the very ground that shakes.
And here is Fr. Benedict talking about the action of Divine Providence that kept every one of the Nursini alive. The earlier, smaller quakes, closed all the unsafe, unstable houses and buildings so no one was in them when the big one did hit.
~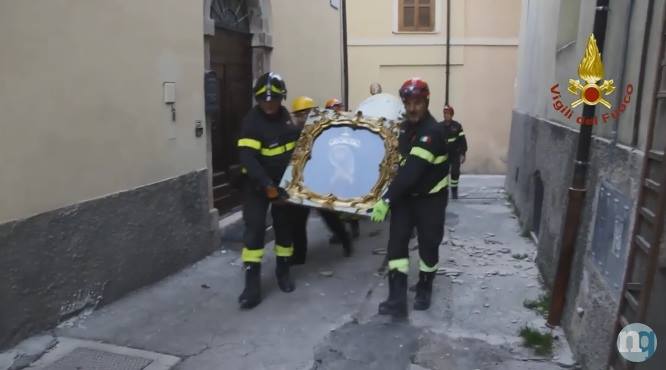 This photo showing the firefighters rescuing the altarpiece from the Chiesa di Santa Maria Addolorata.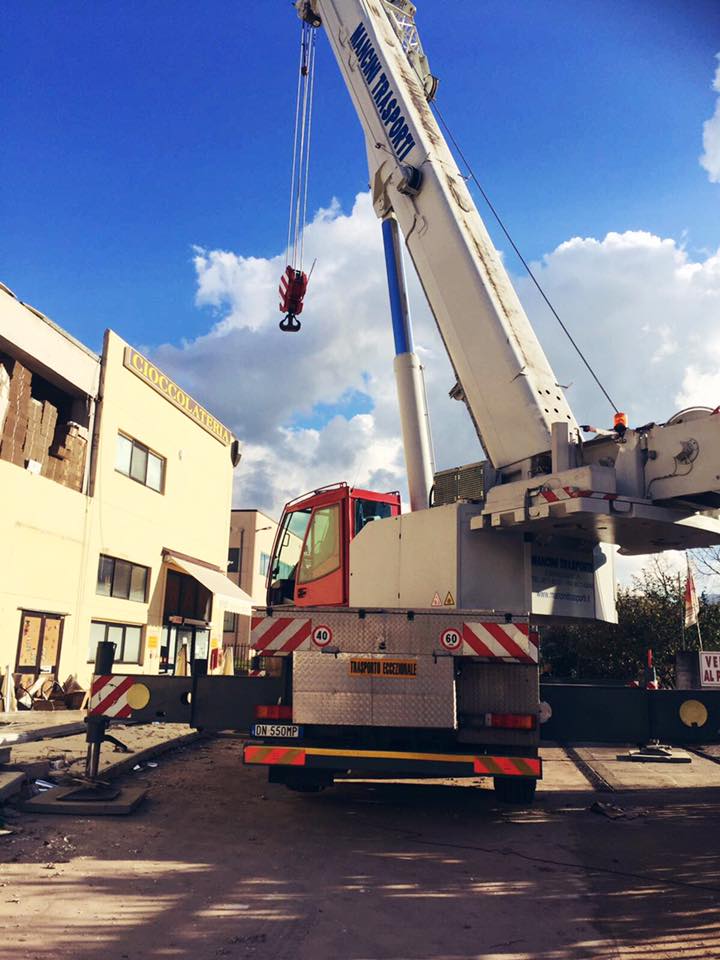 And this one of the beginnings of repairs at the chocolate factory in the zona industriale.
~
This is the first post from the Facebook page of the Palazzo Seneca hotel and the Bianconi family, who run four hotels and are one of the big pillars of the Nursia community. This family has been indescribably kind and helpful and friendly. They are dedicated to the town in an almost feudal relationship, promoting it and helping to build it up. They have been the patrons of the town through their hospitality work since the 1850s and it is well known that if you have a problem, you talk to the Bianconi. If you are in difficulties, you ask advice from the Bianconi. If you need something you ask the Bianconi.
It was really very much from them as much as from the monks that I started to understand just how important Norcia is, and how it would be a place of cultural renewal in Italy, a beacon.
It seems they have not given up on that vision.
Dear Friends,
Thank you for showing us your empathy. We apologize for the delay but these has been awful days. Just today we have the possibility to access a PC from which I'm writing this message.
Thank God we are alive. Our main concern was to shelter in place our guests our staff and their families. We also contribute to emergency support.
After a quick survey The Relais & Chateaux Palazzo Seneca and the Vespasia restaurant seems not to have suffered any damages. Norcia's old town is highly damaged and is considered "Red Zone". We don't know when this area will be accessible. The town has been deeply wounded.
We are promoter to founded a non-profit organization called "I love Norcia" which will involve the entire city.
Our goal is to merge ideas and resources in order to rebuild our community.
As soon as possible we are going to share with you more information about our non-profit organization if you would like to contribute to the rebirth of Norcia.
If you also want to involve us in any initiative don't hesitate to contact us.
We will never give up.
Hugs from our staff and from Bianconi Family.
Arrivederci
~
I left the following comment: "Palazzo Seneca is like a second home to me in Norcia, and I can't tell you how relieved I am to hear that it, at least, is OK. It gives me hope, here in exile in Rome, (Rome is so awful!) that we can all come home and be happy again. It is like being cast out of Paradise.
"Thank God all Nursini are OK, unharmed and safe. And we will not give up. Never."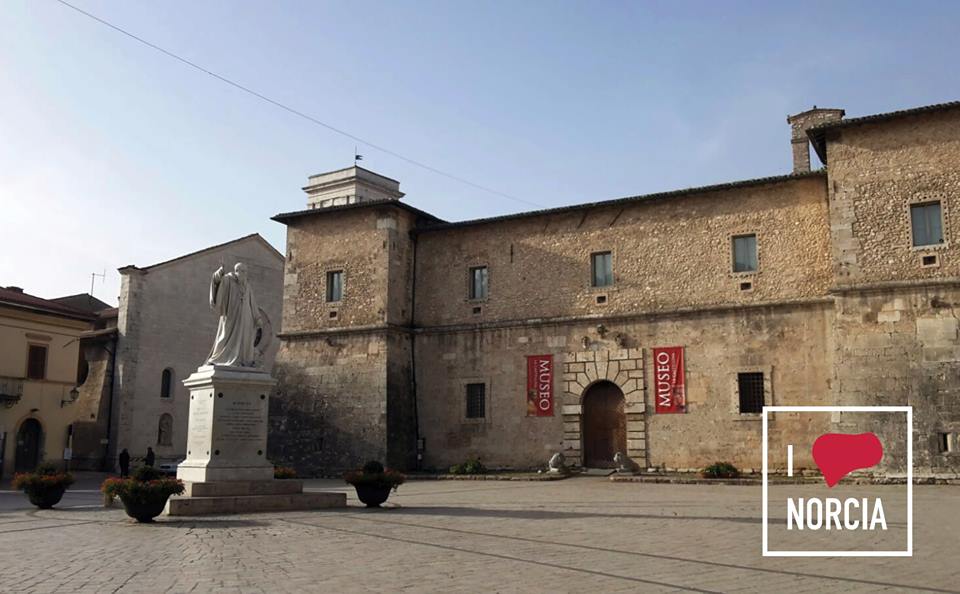 Join "I Love Norcia" Facebook group here.
~
Valnerina Online, a website run by a friend of mine, offers a list of places to go to buy or order Norcia and Valnerina products to help businesses affected by the quake, including all our favourites, cured meats and sausages, proscuitto, truffles, pecorino cheeses, olive oil and on and on… :
Where to buy products of Norcia to help those affected by the earthquakes
~
There are a few bits of good news that seem like miracles. One of the Umbrian companies – that makes proscuitto crudo, among other things – has announced that they have been completely untouched by the quakes, and are getting back to work and that no employees will be laid off.
~
A friend from Norcia just posted this information and asks it get passed around as much as possible:
Earthquake emergency
For all the companies and institutions of the valnerina, fields and reception centres of control. Our staff is available for any need for emergency internet connectivity, moving offices, construction of networks provisional lan cable is that radio, however, in general, all you need to restore the "normal" continuation of the work after digital The last of the seismic events.
Info:
Office 0743.76209
Antonio 349.56.45.348
Lorenzo 328.91.95.429
~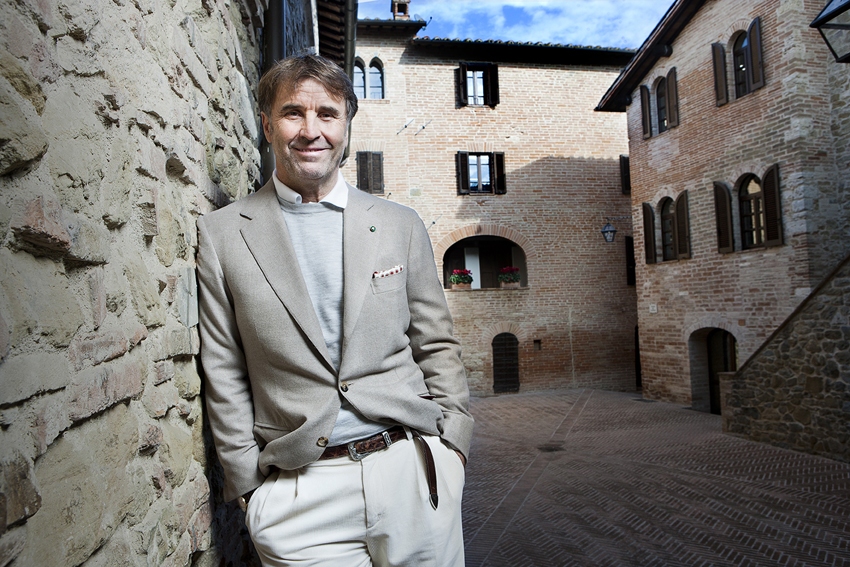 Here is an interview with a self-made millionaire who has pledged to help reconstruct Norcia.
"Norcia is my spiritual reference"
"Until yesterday it was a fine example of quality of life, there were well-being, spirituality, mysticism, humanity, silence. We will rebuild this beautiful city, we will do even more beautiful than before because Norcia is the city of the soul."
Brunello Cucinelli in Norcia has its spiritual father, Fr. Cassian Folsom, American prior of the monastery of St. Benedict, and wanted to come back here two days before the destruction of the earthquake with a commitment to fund the monastery adjoining the collapsed church. A challenging project "that will all be funded by the Foundation Cucinelli."
"I find it extraordinary that the facade of the basilica remained standing, with its rose window and statues of Benedict and his sister, St. Scholastica," says the entrepreneur of the cashmere in a short break during the meeting with what he calls the his "brothers friends."
"After this disaster, even the Benedictine rule rediscover a new impetus."Remember the Rule of St. Benedict: "treating each day the mind by study, the soul with prayer and work." Today more than ever you feel the need, "even in the companies – it ensures -. This is a time a bit 'special: you work too much, we all feel the need to find balance. " Topics on which Cucinelli has founded all his business from the beginning when they were not in fashion – not among some skepticism – proving that ethics is also good for business (today his humanistic enterprise that wants to put man at the center and his needs is studied in universities).
~
As for me, exhaustion is a big factor. I would be writing more, but I find I'm just flat-out flattened. I hope a little safety and rest will start showing results, but for the moment, I'm not good for much. Before this I thought I knew what homesickness was, but I have never experienced anything quite like this plain longing. It hits me ten times an hour, a kind of agony. I keep thinking I will just wake up and be at home, with the valley stretching out in front of the house, the mist rising up to the hills across the way, the bells ringing for Prime…
HJMW