St. Benedict is still the patron of Norcia
By Hilary White
…and the patron of Europe. Let's not forget it.
Information on where people can donate directly to help with the rebuilding of Norcia:
Finalmente, the e-address to make donations directly to the commune of Norcia for assistance to citizens and to help reconstruction.
ON IBAN FOR DONATIONS TO COMMON NORCIA
E 'it was activated the IBAN to make donations to the people of the City of Norcia affected by the earthquake of 08/24/2016: IT48M0631538580100000300005
BENEFICIARY: COMMON NORCIA
A BANK: SAVINGS DELL'UMBRIA SPA – AG. NORCIA
REASON: SEISMIC EVENT OF 24/08/2016
SWIFT CODE FOR DONATIONS FROM ABROAD: CRSPIT31010
~
And more on the art being rescued from the Cittadella and the churches of Norcia.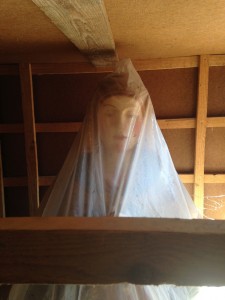 Good news comes at a difficult time. Thanks to the work of the Laboratory for Spoleto Cultural Heritage over 300 works were put safely in Norcia by the terrible shock of the last days. The news is the Board of Directors, composed of Pierre Marie Gruet, Pio Baldi, Vittoria Garibaldi.
The handling operation took place following the shock of August 24, thanks to the work carried out with speed and professionalism in early October. In this way at the time of the collapse of the Santa Rita church of Norcia, on October 30, inside the building they were no longer the works of art that had been hospitalized after the earthquake of 1997, pending the possibility to return them to their places of origin (Preci, Norcia, Cascia).
~