More art rescue and a very pointed question
By Hilary White
#vigilidelfuoco #monumentsmen, i #caschirossi che salvano l'arte dalle rovine del #terremoto. Le immagini eccezionali di oggi a #Norcia pic.twitter.com/UlhyivzQff

— Vigili del Fuoco (@emergenzavvf) November 5, 2016
The vigili del fuoco rescuing precious art works from the ruins in Norcia.
But here's a thing: this isn't actually a church any more.
It's the Chiesa di San Francesco, 14th century, and is (was) still full of beautiful frescoes and this is certainly one of the best pieces of art in the city. But the church has been deconsecrated and now serves (served) as a concert hall. It was the church I ran past, on the left, in that video of all the fallen masonry. The spot where I momentarily froze in shock at what I was seeing, a moment I don't think I'll ever forget.
There is (was) an excellent annual music festa in Norcia in the summers. You can (could) walk around town and hear music pouring out of churches and the theatre. If you go (went) to None at the Basilica you can (could) pass the little side street of the theatre while rehearsals are (were) going on and listen to the opera singing for a moment at the side door which they usually leave (left) open.
The work that these good firemen are removing is the altar piece which had remained in place in San Francesco when they rebuilt it as a concert hall after the last big quakes. It's something to keep in mind. We North Americans tend to go to Europe and assume that these beautiful medieval buildings have been standing continuously for 700 years, but in many cases they have been knocked down by earthquakes (and the wars) several times and rebuilt.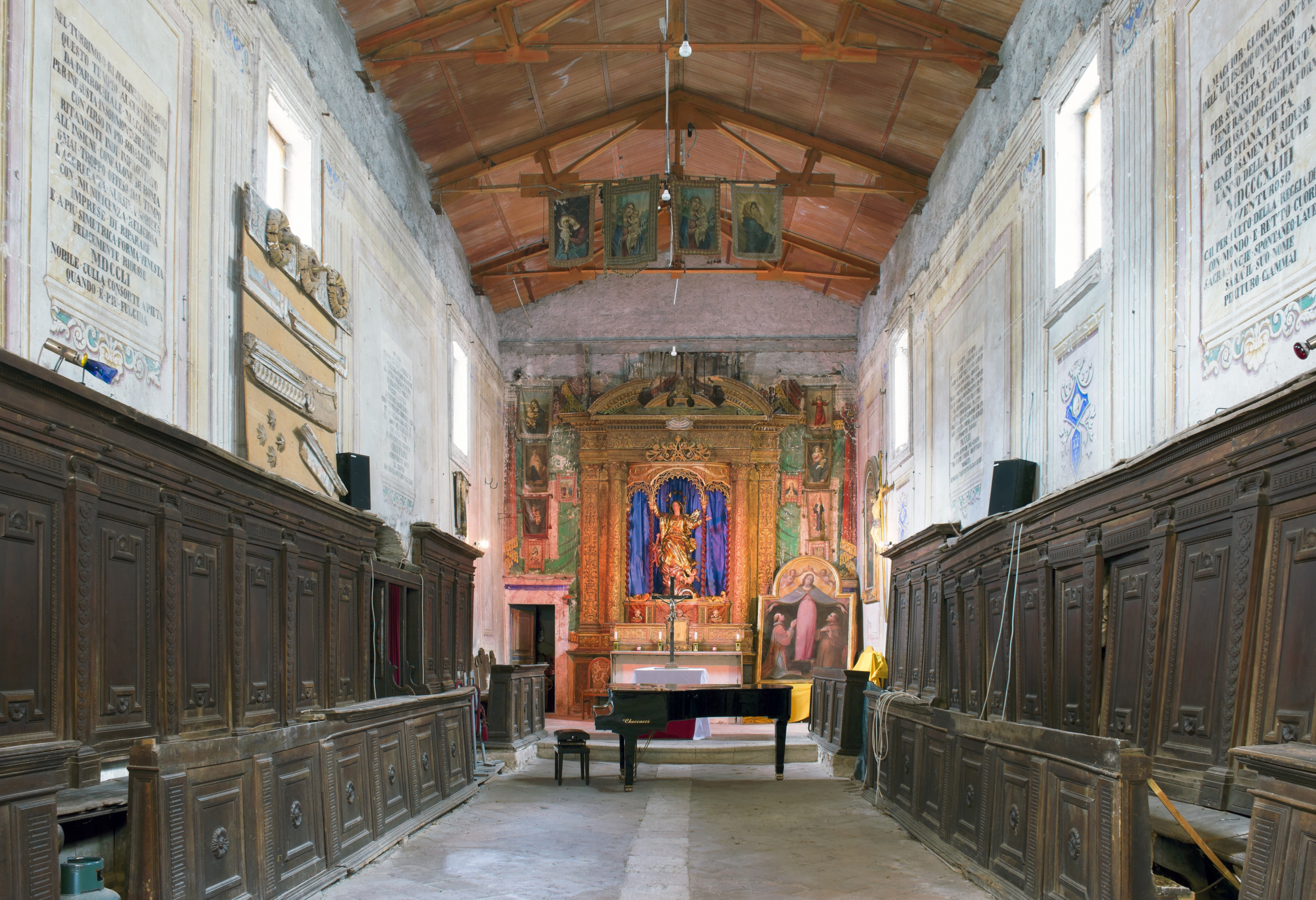 One of Norcia's unused churches, San Lorenzo, dates to the early 5th century and is thought to be the church where Sts. Benedict and Scolastica were baptized. It is in better shape than some – many of the churches of Norcia were closed after previous quakes and never opened again. San Lorenzo still has its medieval choir stalls along both walls of the nave. But it is not used as a church, and is only opened a few days a year.w Well, actually I have no idea what condition it's in now. Fr. Benedict did say that all of Norcia's churches had been destroyed.
As Ann has pointed out here, the question is now, and perhaps for the first time, is there a good reason to rebuild them? It's one that's worth asking, and I've got a few thoughts on it, but yesterday was a pretty rough day for various reasons, and we'll have to save it for later.
~