Because by Thy holy Cross Thou hast redeemed the world.
By Hilary White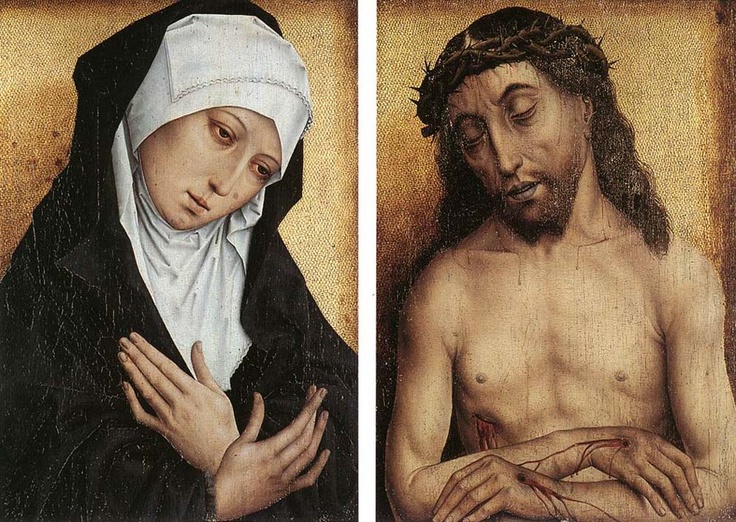 One of the things I always have trouble with in my own prayer life is mixing up the Sorrowful Mysteries with the Stations of the Cross. Mostly I guess it just shows that I don't do either often enough.
The scourging at the pillar is the Sorrowful Mysteries, right? Ever since that Mel Gibson movie came out I've come back again and again in my mind to this horrific episode in Salvation History. Of that whole very difficult to watch film, I think that was the worst. (Or maybe the moment He fell and His mother came to Him.)
I read that in the Agony in the Garden He suffered all the torment due to all the sins committed by all the men who had ever or would ever live.  There is so much that is hidden about this, but revealed to some of the saints.
Ah, my loving Jesus, I do not behold in this garden
either scourges or thorns or nails that pierce Thee; how,
then, is it that I see Thee all bathed in blood from Thy
head to Thy feet ? Alas, my sins were the cruel press
which, by dint of affliction and sorrow, drew so much
blood from Thy heart. I was, then, one of Thy most
cruel executioners, who contributed the most to crucify
Thee with my sins. It is certain that, if I had sinned
less, Thou, my Jesus, wouldst have suffered less. As
much pleasure, therefore, as I have taken in offending
Thee, so much the more did I increase the sorrow of Thy
heart, already full of anguish. How, then, does not this
thought make me die of grief, when I see that I have re-
paid the love Thou hast shown me in Thy Passion by
adding to Thy sorrow and suffering? I, then, have tor-
mented this heart, so loving and so worthy of love,
It makes me think about what is happening now. Is the Church, the Body of Christ, undergoing another scourging?
It's maybe something to keep in mind when we learn that Pope Francis has allowed a French feminist "Biblical scholar" to write the meditations for his Via Crucis in Rome this year. It's been commented on here and there, I guess. This fad of the modern popes to get trendy modernists – often females – to write "meditations" for various sacral rites has been going on some time. I think I remember during one of Benedict's events the meditations were pretty scandalous, and we were upset by them in some way. I can't really remember.
But I think this might be the first time the Stations have just been substituted with something she made up. Or maybe he made them up.
Jesus is condemned to death
Jesus is denied by Peter
Jesus and Pilate
Jesus, King of Glory
Jesus carries his cross
Jesus and Simon of Cyrene
Jesus and the Daughters of Jerusalem
Jesus is stripped of his garments
Jesus is crucified
The crucified Jesus is mocked
Jesus and his Mother
Jesus dies on the cross
Jesus is taken down from the cross
Jesus is laid in the tomb and the women
And the new prayer – "Christ, put to death for our sins, Christ, risen for our life, We beg you: have mercy on us."
The text of her meditations can be found here. I'm not going to read it. If anyone wants to go mining for horrors, be my guest. I'm just glad it's not my job anymore.
But it does show us that there are now no boundaries he's not willing to cross. Nothing sacred, quite literally. I suppose it makes sense. They think they own the Faith. They re-wrote the Mass, the Rosary and now sacred doctrine.
If we are ruled by Nominalism, we are ruled by egotism and the sacred rites of our religion are nothing more than toys.
But if you still want to be Catholic, the Stations of the Cross are here. And thank God for the internet once again, because it means their efforts to memory-hole the Faith will fail.
I'll just leave this here.
~