Let's play a game! I call it "Connect the Vatican-perv dots"
By Hilary White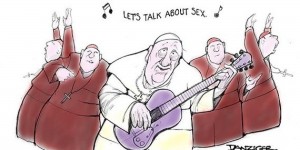 So, the redoubtable Gloria TV posts today about a piece from an Italian paper reporting that an unnamed curial official has been arrested by the Vatican's police for his involvement in gay drug orgies.
~
Il Fatto Quotidiano writes, that the Holy See's Gendarmerie disrupted a homosexual drug-party in an apartment of the Palazzo del Sant'Uffizio in Rome, where also the Congregation of the Doctrine of the Faith is located. The apartment belongs to a monsignor, who was caught in flagrant[e]. According to Il Fatto Quotidiano, he is the secretary of a cardinal who heads a dicastery of the Roman Curia and who had proposed the monsignor to become a bishop. The monsignor was brought to the Roman clinic Pio XI in order to be detoxified. He is now in a monastery in Italy. His apartment was not destined for simple monsignors. He also drove an exclusive car with Vatican license plates, which are reserved for higher Vatican dignitaries.
The last bit's interesting:
Il Fatto Quotidiano writes that the cardinal, for whom the monsignor was working, is well over 75. This is only true for two cardinals at the Roman Curia, Cardinal Angelo Amato (79) of the Congregation for the Causes of Saints, and pro-gay Cardinal Francesco Cocopalmerio (79) of the Pontifical Council for Legislative Texts.
Let's see if we can line up some of the dots.
Who is Cardinal Amato? His Italian wiki page gives us this (the English language page has nothing):
In an April 2007 address to chaplains, he denounced same-sex marriage and abortion and criticized the Italian media's coverage of them, saying that they are evils "that remain almost invisible" due to media presentation of them as an "expression of human progress."
Here's the Reuter's source from 2007:
The Vatican's second-highest ranking doctrinal official on Monday forcefully branded homosexual marriage an evil and denounced abortion and euthanasia as forms of "terrorism with a human face".The attack by Archbishop Angelo Amato, secretary of the Congregation for the Doctrine of the Faith, was the latest in a string of speeches made by either Pope Benedict or other Vatican officials as Italy considers giving more rights to gays.
In an address to chaplains, Amato said newspapers and television bulletins often seemed like "a perverse film about evil". He denounced "evils that remain almost invisible" because the media presented them as "expression of human progress".
He listed these as abortion clinics, which he called "slaughterhouses of human beings", euthanasia, and "parliaments of so-called civilised nations where laws contrary to the nature of the human being are being promulgated, such as the approval of marriage between people of the same sex …"
Amato spoke at a time when the Vatican and Italy's powerful Roman Catholic Church are at loggerheads over plans for a highly controversial law that would give unmarried heterosexual and homosexual couples some form of legal recognition.
Amato was also secretary of CDF under Ratzinger as Prefect, and was signatory to this rather famous and now totally ignored document: "Considerations regarding proposals to give legal recognition to unions between homosexual persons."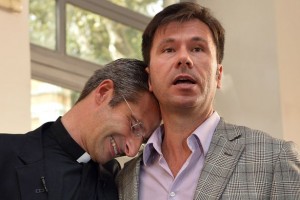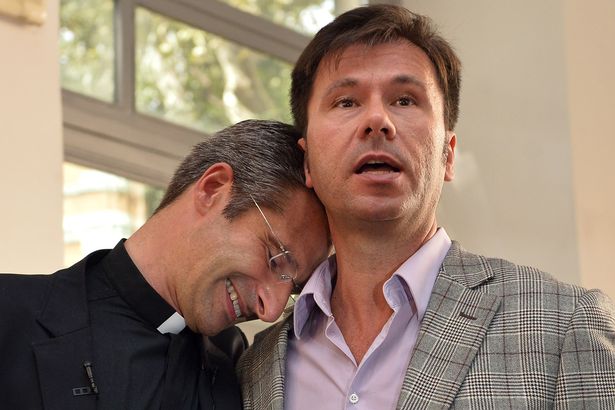 Never forgetting, of course, that this chap was also at Ratzinger's CDF (the one on the left).
Now let's see what Cardinal Coccopalmerio is famous for:
He's recently become one of Francis' leading Nothing-to-See-Here apologists on Chapter VIII of AL.
But I think his "side" in the larger church-war can be determined less by what he says than what he does, and who is friends are. Specifically this friend. Mauro Inzoli is known to have appealed his suspension a divinis, imposed by Benedict, to his two buddies in the Curia; Monsignore Pio Vito Pinto and Cardinal Coccopalmerio.
Inzoli was recently convicted of child molestation – acts he occasionally enjoyed committing in the confessional and sentenced to nine years, four months four years, nine months in prison [Oops. My bad. HJW] But he was walking around free for quite a while. His suspension by Benedict was overturned by Francis on the advice of his two close collaborators, Pinto and Coccopalmerio. The suspension was lifted and Inzoli was allowed to celebrate private Masses, ordered to stay away from the kids and to get five years of "counselling." This lenient treatment, however, backfired a bit because it aroused howls of protest from … well… normal people in Italy who had had rather enough of Don Mercedes.
Today, in addition to the interesting Gloria TV/Il Fatto Quotidiano story, we have the latest on the Inzoli saga: Bergoglio's Vatican has decided, I suppose, that the public heat was a bit much, and Inzoli has been belatedly laicized. After his conviction and sentencing, the Vatican reopened the canonical trial.
The information that Inzoli was a clerical abuser with powerful friends comes from Michael Brendan Doherty's inside sources.
Two people with direct ties to the Vatican tell me that Pope Francis, following the advice of his clubby group of allies in the curia, is pressing to undo the reforms that were instituted by his predecessors John Paul II and Benedict XVI in handling the cases of abuser priests. Francis is pushing ahead with this plan even though the curial officials and cardinals who favor it have already brought more scandal to his papacy by urging him toward lenient treatment of abusers.
In 2001, the Vatican instituted a massive reform in how it handled the cases of priests who abused children. The power to deal with these cases was taken away from the Congregation of the Clergy and the Roman Rota (the Vatican's Court), and placed in the office of the Congregation for the Doctrine of the Faith (CDF). Subsequently, the volume and speed with which the Catholic Church defrocked abuser priests went up. This was Pope Benedict's legacy of trying to confront "the filth" in the Church.
Recently, Pope Francis had the Vatican's secretary of state, Cardinal Pietro Parolin, request an opinion from the Pontifical Council for Legislative Texts, led by Cardinal Francesco Coccopalmerio, regarding the possibility of transferring competence to deal with abuser priests from the CDF back to Clergy and the Rota. Coccopalmerio's office responded with a positive answer.
[…]
So why revert?
Perhaps because the CDF has taken a tough, rules-based approach to the issue of child abuse, which clashes with the more personal autocratic style of this pope. Or perhaps because reforming the reform would reward his allies, and humiliate an antagonist.
Rumors of this reform have been circulating in Rome for months. And not happily. Pope Francis and his cardinal allies have been known to interfere with CDF's judgments on abuse cases. This intervention has become so endemic to the system that cases of priestly abuse in Rome are now known to have two sets of distinctions. The first is guilty or innocent. The second is "with cardinal friends" or "without cardinal friends."
And indeed, Pope Francis is apparently pressing ahead with his reversion of abuse practices even though the cardinals who are favorable to this reform of reform have already brought him trouble because of their friends.
Consider the case of Fr. Mauro Inzoli. Inzoli lived in a flamboyant fashion and had such a taste for flashy cars that he earned the nickname "Don Mercedes." He was also accused of molesting children. He allegedly abused minors in the confessional. He even went so far as to teach children that sexual contact with him was legitimated by scripture and their faith. When his case reached CDF, he was found guilty. And in 2012, under the papacy of Pope Benedict, Inzoli was defrocked.
But Don Mercedes was "with cardinal friends," we have learned. Cardinal Coccopalmerio and Monsignor Pio Vito Pinto, now dean of the Roman Rota, both intervened on behalf of Inzoli, and Pope Francis returned him to the priestly state in 2014, inviting him to a "a life of humility and prayer." These strictures seem not to have troubled Inzoli too much. In January 2015, Don Mercedes participated in a conference on the family in Lombardy.
So, some of our dots include
Coccopalmerio's boosting of the fast'n loose Maltese interpretation of Amoris Laetitia
a rivalry between Pinto, (Roman Rota) Coccopalmerio (Legislative texts) and Muller (CDF), a little war that's been going on Inside over how clerical sex abusers are dealt with.
Muller, who has been rather vocal against the German/Kasper proposal.
Are we starting to form a picture yet?
So, who do we put our money on between Gloria TV's two curial candidates for the gay orgies?
I leave it up to my dear readers to decide.
~