What makes sacred art sacred?
(Hint: it's not just the subject matter).
Had an interesting exchange on FB today with a good friend back in Canada. He's looking for a painter to commission some paintings for a church he's in charge of.
He posted one pic of a painting of Pius X and for a while I kept looking at it wondering why I didn't like it. And then I started wondering about it in the context of the weird mania among bishops for commissioning soul-crushing anti-religious art and architecture, like the planned reconstruction of the Basilica of St. Benedict the bishop of Norcia is threatening.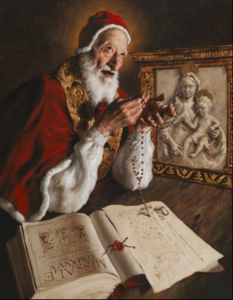 He also posted this one of Pope Pius V.
They're by Giovanni Gasparro, a youngish painter in Rome.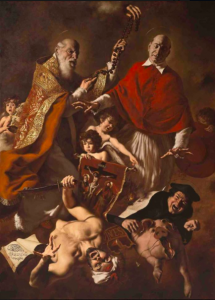 His painting of St. Charles Borromeo and St. Pius V defending Catholicism against Islam and the Protestant Heresy was featured recently on Rorate Caeli.
My friend, of course, was impressed that anyone would in our times be creating serious sacred art, particularly with such "controversial" and traditionalist themes. Note in the painting of Pius V the prominence of the Missale Romanum, the text of the "Tridentine" Mass that this pope promulgated after the Council of Trent, and the second document, against the sin of Sodom. It's certainly clear that this artist shares some of the traditional Catholics' ideas and religious sensibilities. 
I had come across this painter's stuff before, around about, and of course was struck first with the excellent quality of draughtsmanship; this is someone who has certainly learned classical realist drawing and has a very firm grasp of anatomy, extremely rare skills among artists trained in mainstream (non-Atelier) schools. But as usual, though it is clear there are strong Catholic themes in nearly all his work, this is someone who still approaches sacred subjects with a distinctly modernist mindset.
As I kept looking at it, the sense of something being seriously "off" kept growing. Then I realised that this is not actually sacred art in the traditional sense.
A look at the artist's other work rather confirms this.
"Unease" immediately grows to being genuinely creeped-out. This is surrealist, not sacred art.