Report from Ireland: "You know things are bad when even priests are saying they could not recommend that a young man with a vocation become a Diocesan priest"
By Hilary White
Like many Catholics around the world, before I was paying close attention, I assumed that Ireland remained one of the great bastions of Catholicism. Since then, of course, we have learned all that we have learned about the systematic dismantling of these bastions that used the organised structures and well established disciplines of the Church to all-but destroy the same. These evil and vicious men, who did not believe in salvation for themselves, determined that no one else would either – most especially in those countries renowned for their faithfulness; Ireland, Poland, Malta…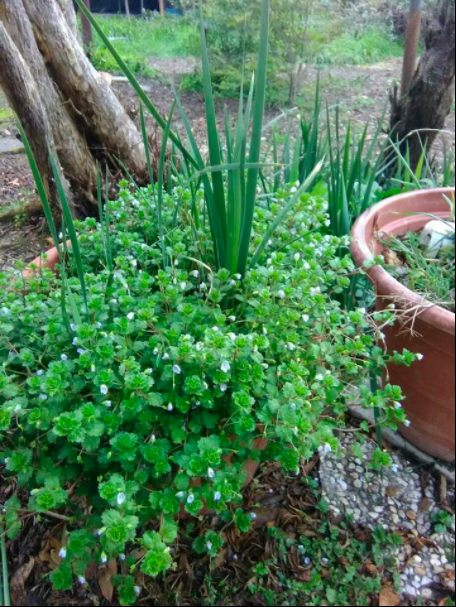 But of course, like those cheery and determined little wildflowers the world disdains as "weeds," the Faith refuses to die. Tear it up, pour poison on it, turn over the beds and sow as much new foreign seed as you like, the little fellows will just keep on popping up. They got there first, and that soil is rightfully theirs, and they know it.
So, I have a report from Ireland in response to our Sunglasses post that I thought would be of great interest to the general Catholic population. It comes from a lady who works in a parish and, as she said, has seen it all, the good and the bad.
Kay reports on what seems a pretty good description of the best case scenario:
Dear Hilary,
Thank you for recent post on your other website soliciting responses in relation to the Bergolian Age. I've been Parish Secretary in our local parish for the past five years, having left a career in finance because my husband and I figured out some time ago, as you are fond of saying yourself – "you don't have to live like they tell you." From the parish office I have had the privilege of seeing the good, the bad and the ugly of this period in our Church's history, up close and personal every day.
The Good
In Ireland, where I live, the practice of the faith continues at levels, which while historically low for Ireland, are significantly higher than for most other countries. The weekly Mass attendance rate in Ireland is 41% (2016 Census). This jumps to as high as 80% in some rural areas and sinks to below 10% in inner city areas. I contrast this with New Zealand, the land of my birth and where I lived into my late 20s. There, the weekly practice of any Christian faith had already declined to around 10% by the time I left in 1996, arriving in an Ireland that still had Holy Hour on Sunday afternoons with shops and pubs closed between 2.00 p.m. and 4.00 p.m. While Sunday trading laws in Ireland have been relaxed over the past 22 years, many shops, especially family owned shops, still remain closed on Sundays, Sunday still feels like Sunday, and it is still impossible to get parking outside churches up and down the country on Sunday mornings.
Despite the best efforts of the media, politicians, multi-national corporations, the U.S. entertainment industry, and even the Irish Bishops, the Faith still runs deep here. People still say "God Bless" and "Thanks be to God" in conversation, teenagers still get their grannies to say novenas and light candles before their exams. We still have the Angelus at 12 noon and 6.00 p.m. on the radio and television. Mass is still broadcast on TV at different times of the year. In the last census 78% of people described themselves as Catholic (yes, I know, it used to be 90% only a few short surveys ago). Over 90% of the 12 year olds in my town will make their Confirmation in the next few weeks, and in May, over 90% of the 8 year olds will receive their First Holy Communion. It is easy to dismiss all of the above as mere cultural Catholicism. However, the Faith still permeates the wider culture and is evident in how strangers great each other, the dignity with which deceased persons and the bereaved are treated, in Mass intentions offered for each other, in the fact that Eucharistic adoration takes place in most parishes, that confession is still widely available, even if not widely availed of, and that it's not considered weird to go to Mass (handy if you have teenage children as I do!). Family life and family ties are still strong here and our divorce rate is the 2nd lowest in the OECD behind Chile.
The Bad
Same as it is everywhere, including a distinct anti-church bias in the media, bordering at times on hostility. In addition one cannot underestimate the level of betrayal felt in the pews in the aftermath of the sex abuse scandals.
Ugly
Many overseas Catholic blogs and comments often lament, "how is it that Catholic Ireland could have voted to legalise same sex 'marriage'?". It is important to note that the practising Catholics who voted in favour of the 'marriage' referendum in 2015 did so out of a sense of charity, encouraged by the statement from the Archbishop of Dublin Diarmuid Martin who said at the time that he had "no wish to shove my religious views down other people's throats", and Pope Francis' famous comment "who am I to judge?". As the old saying goes, with friends like these, who needs enemies. On top of that, there was a "Yes" campaign with very deep pockets that targeted younger people via social media, even getting them "Home to Vote" in their thousands.
We are now facing into a referendum to remove the constitutional right to life of the unborn, and so far, it seems to be playing out in exactly same way. Pray that our Bishops will find their voices this time.
Despite 13 years of Catholic schooling, attending Mass and receiving the sacraments, most baptised Catholics in Ireland under 50 have no idea what the Church teaches, nor more importantly why she teaches what she does. The really curious thing is that despite knowing this, bishops and priests are still refusing to teach the whole truth, and having spoken at length with the priests I know, there are many reasons for this. Suffice to say, the longer one studies the issues the harder it is to contain one's anger at the hierarchy. You are quite correct, the hierarchy are not coming galloping over the hill to rescue us – they are lined up with the enemy and charging full forward straight for us.
To address each of your bullet points:
Access to Valid Sacraments
As you've no doubt gathered my parish is a Novus Ordo Parish. The Traditional Latin Mass is growing in popularity in Ireland and my husband, children and I have assisted at the Diocesan TLM the odd time. There is an SSPX church nearby. My husband's family live in our parish and I sing in the parish choir (chant, old hymns, lots of Palestrina and Victoria, nothing syrupy 😊 ) so most Sundays find us in our local church with our neighbours, local families, familiar faces, etc. While I would prefer to attend the TLM, I am grateful that my husband and children attend Mass at all, and I take comfort in knowing that the Church has always preferred that we worship in our local parishes; the importance of being grounded in "place" and all that. I am thankful that our current priests offer a reverent Mass, albeit with the theological deficiencies of the Novus Ordo, and their homilies to date have not contained anything contrary to the Faith. As mentioned, Confession is readily available (with the anonymity of the old confessional) and Eucharistic devotions take place. All I can do for now is monitor the situation. I would be interested to know others' views in this area.
How do I as a Parent hand on the Faith?
Children growing up in Ireland today will not hear the whole truth in their Catholic schools, i.e., no hard teachings. It's all about love and mercy and Gospel values. Don't get me wrong, these have their place too and I am grateful for the priests and religious sisters still serving in my children's schools. However, the hard teachings have to be taught at home and this is extremely difficult to do in a global, sentimental, social media age, saturated with celebrity virtue signalling. This question occupies most of my time, energy and prayer. Again – I would be very interested in the views of others.
Answering Questions on the Faith and the Church?
We answer such questions truthfully. Truth, even when it is ugly is a terrible beauty that still has the power to attract people. Perhaps they might be spurred to join the fight.
Vocations
As you have pointed out in previous blog posts, there is nothing stopping like-minded people living in community (or in some other set-up) de facto, if not de jure. We are blessed in Ireland to have many orders dotted round our cities, towns and countryside, some still fully cloistered, many of them habited, and some of them offering/assisting at the traditional Latin Mass. There they are, praying for the world, and available to receive prayer intentions from anyone who would think to ask.
Priesthood
You know things are bad when even priests are saying they could not recommend that a young man with a vocation become a diocesan priest, such is the scandal our seminary has been plagued with. There is a bright spot – the Dominicans here in Ireland are attracting vocations.
Bishops
Ah the Bishops…! I did chuckle when I saw your blog post before Christmas on the World Meeting of Families icon, knowing I had a box of 500 of the infernal things sitting under my desk!!! No, you couldn't make this stuff up. On the plus side, the artwork and prayer are okay, and for those young families who have taken one home it is probably the most catholic thing they have in their house now with the Christmas Crib long put away. With any luck none of them will bother googling "Amoris Laetitia" never mid reading it!
I did add my voice to the many requests to remove an image depicting a same sex couple in the Parish Conversations material for the courses on Amoris Laetitia which are rolling out across the Dioceses of Ireland this Lent (there goes our lovely low divorce rate – or maybe not, because apparently there is little interest in the courses). A huge thanks to Steve Skojec of One Peter Five and to Life Site News for raising awareness of this and bringing pressure to bear, resulting in removal of the image and text. So far, there is also very little interest in the World Meeting of Families to be held in Dublin later this year – as I type this I have just heard an ad for it on prime time national radio. There is to be (another) nationwide collection at all Masses this weekend to cover some of the costs of holding the event.
Will AL split the Church? Who knows? Sadly, many priests do not see any problem with it and most people in the pews know nothing about it. Besides, it seems the circus is moving on and the next row of ducks are being lined up in the side show.
In the meatime the show goes on here, and there are Deanery and Diocesan initiatives coming down the tracks to address issues like falling mass attendance, falling revenue, lack of interest from young people and lack of vocations. However rather than address the issues these initiatives are having/will have the opposite effect, which keeps bringing me back to the conclusion that others have also reached: that this is a deliberate destruction of the Faith from within.
Future
In Ireland as in many other countries there are two priestly "unions" for want of a better description: the loud, obnoxious, heterodox, progressive and mostly older…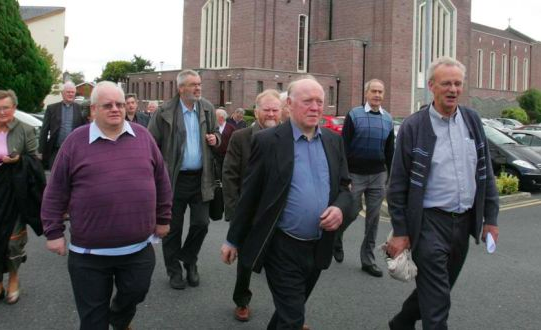 Association of Catholic Priests
and the lesser known orthodox, generally younger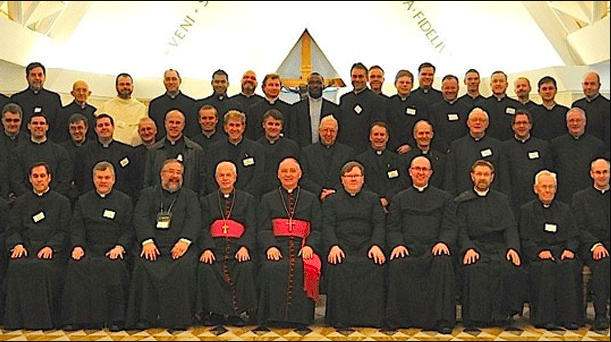 Confraternity of Catholic Priests. And maybe this is where the answer lies – in reaching out to the confraternities and encouraging those faithful priests, gathering around them in the virtual world and seeking them out and supporting them in the real world where we can.
Mrs…
In related news…
Demonic activity on the rise since the New! Paradigm! of VaticanTwoism all-but abolished the practice of regular Confession:
It All Goes Back to Confession Lines
Msgr. John Esseff, a priest in the diocese of Scranton, Pennsylvania, for 65 years and an exorcist for over 40 years, said that Ireland has now gone the way of other European countries that have walked away from the Catholic Church. As a result, fewer people are frequenting the sacrament of confession, which he said is worth more than 100 exorcisms; one imparts sacramental grace and the other is a blessing to move a person back to the sacraments. When confession lines grow short, demonic activity increases, according to him.
"Since Vatican II with the decline in the Sacrament of Reconciliation, we've seen not just an increase in abortion but also in personal sin which is the primary work of the devil," Msgr. Esseff said. "This has been true all over the world where the Church has declined."