The whole earth keeps silence because the King is asleep.
By Hilary White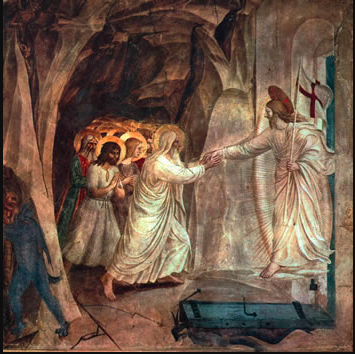 The Lord goes in to them holding his victorious weapon, his cross. When Adam, the first created man, sees him, he strikes his breast in terror and calls out to all: 'My Lord be with you all.' And Christ in reply says to Adam: 'And with your spirit.' And grasping his hand he raises him up, saying: 'Awake, O sleeper, and arise from the dead, and Christ shall give you light.
'I am your God, who for your sake became your son, who for you and your descendants now speak and command with authority those in prison: Come forth, and those in darkness: Have light, and those who sleep: Rise.
'I command you: Awake, sleeper, I have not made you to be held a prisoner in the underworld. Arise from the dead; I am the life of the dead. Arise, O man, work of my hands, arise, you who were fashioned in my image. Rise, let us go hence; for you in me and I in you, together we are one undivided person.
'For you, I your God became your son; for you, I the Master took on your form; that of slave; for you, I who am above the heavens came on earth and under the earth; for you, man, I became as a man without help, free among the dead; for you, who left a garden, I was handed over to Jews from a garden and crucified in a garden.
St. Epiphanius of Cyprus
~