Newark, McCarrick and Turks & Caicos
By Hilary White
Now here's an interesting little line of inquiry, while we're "following the money." I'm just going to toss this into the air and anyone who wants to catch it can have it…
I'll do it in point-form.
Turks and Caicos, a set of islands next door to Cuba that is a British overseas territory, and a well known offshore tax and banking haven.

Tax haven Turks and Caicos is a leading international centre for business and financial services. As a tax haven, Turks and Caicos stands out a regulated offshore jurisdiction which serves as the domicile of many international financial institutions, trusts, mutual and hedge funds, investment companies, insurances and offshore companies. The success of the Turks and Caicos as a tax haven is largely attributed to the country's stable government, economic growth and trained professionals in the legal and financial fields.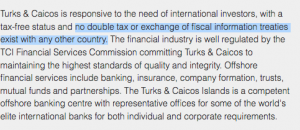 Source
Corrupt, of course…
Britain plans to seize control of tax haven
• UK could suspend Turks and Caicos parliament
• Inquiry finds 'political amorality, incompetence'
"Political amorality…" sounds familiar…
The Catholic "Missio sui juris" of the notoriously politically and financially corrupt offshore tax haven of Turks and Caicos islands is under the episcopal jurisdiction of… wait for it…
Missio Sui Iuris
According to Canon Law (cf: canon 368), a Missio Sui Iuris, or mission in its own right, is just the beginning of the establishment of a particular church in a concrete territory. In fact, after planting the word of God into a territory, the mission territory becomes a Church entity called Missio Sui Iuris. This entity can belong to ecclesiastical territory (in our case, to the Dioceses of Nassau, Bahamas) but be governed by the ordinary of another territory (in our case, by the ordinary of Newark, New Jersey, USA; Archbishop John J. Myers).
Thus, the Ordinary who governs the Missio Sui Iuris is its Ecclesiastical Superior.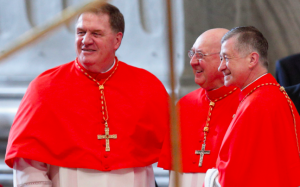 Except of course, it's not Myers anymore, but McCarrick's good friend, Cardinal Joseph "Nighty-Night Baby" Tobin.
T&C was pretty much ignored by the Church for a long time, until McCarrick was  (suddenly! miraculously!) put in charge.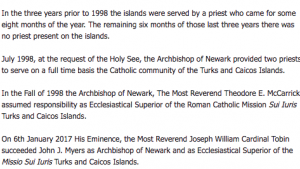 The only man listed by the completely reliable Catholichierarchy.org website as having been ordained a priest by Cardinal McCarrick who then went on to be consecrated as a bishop is this man, Peter Baldacchino: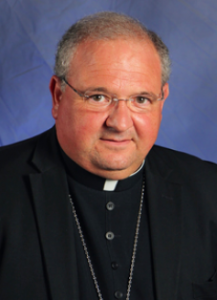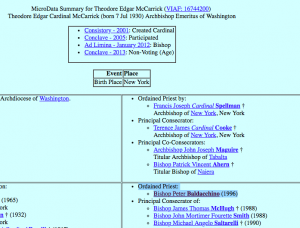 5.

Baldacchino, a member of the NeoCatechumenal Way, did titan's work expanding the Catholic presence there while he was answering to McCarrick who§ was Ab. of Newark & paying the bills.
Here's his rap-sheet from Catholic-Hierarchy.org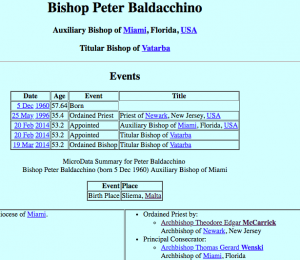 The NeoCatechumenal Way newsletter expresses gratitude to God for sending one of their own to Turks and Caicos,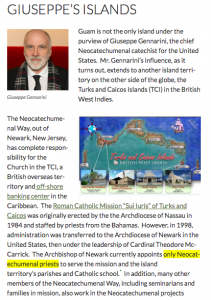 …and for effectively turning it into a Neo-Cat fief.
For his exemplary work in building up the Church in Turks and Caicos, His Excellency Peter Baldacchino was elevated to the episcopate and sent to serve the Church in Miami, Florida, as an auxiliary to Ab. Thomas Wenski.
A fact that failed to please SNAP. (To be fair, SNAP is a viciously anti-Catholic organisation of leftist secularists, so pretty much nothing but the abolition of the Catholic Church throughout the world would please them…)

So, with his (ahem) intimate knowledge of McCarrick's episcopal activities in Turks and Caicos, perhaps the good Bishop Baldacchino – who has never, to anyone's knowledge at this time, been accused of any wrongdoing of any kind … I add for legal purposes… would be interested in receiving inquiries from respectful gentlemen of the Catholic press…
One of the things McCarrick was best known for was his facility at raising extremely large sums of money "for the Church"… Perhaps Bishop Baldacchino could help to clarify some issues related to the Cardinal's fundraising activities.
One question he might be able to help with that I'd really like to know the answer to is, "Where is Cardinal McCarrick right now?"
~