The Purge in Saginaw
So, you know that whole "purge" thingy I've been talking about?
Let's do a little shot/chaser theme today…
Shot: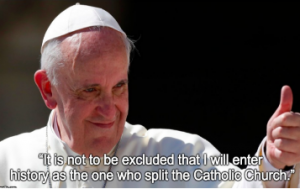 Today I had a conversation with a lady who is involved in a Thing to set up some kind of praying sort of community-ish thing for ladies and others. She was asking me whether I had ever heard of a bishop anywhere in the world who would be approachable, someone who is on the side of the Angels and understands what's at stake, to ask for support and/or protection. Maybe even start a process to become a Private Association of the Faithful, canonically speaking.
… I said:
"It's not impossible. But it's imperative to understand that the bad men are in charge and there is a bloodbath planned for ALL faithful Catholics. They're purging EVERYONE. If you find a bishop who's going to support you, he'll be purged, likely for having supported you.
Nice Lady: Elaborate please on bloodbath and purge. What is plan for laity?
Me: Lock-out. Anyone associated in a formal way with the institutions of the Church – bishops, priests, deacons, monks, nuns, even "private associations of the faithful" … everyone – will be either forced to toe the line or be purged. Anyone free of formal association will be locked out.
Nice Lady: How soon?
Me: Right now. …'
Bishops and priests are already being removed who are obviously not going to go along, and not just in the US."
The goal is to ensure that Catholicism of the kind St. Philip Neri recognised will become a private practice. The public Church will no longer be Catholic doctrinally, in the same way it is largely no longer Catholic liturgically. You can have your New Catholicism any colour you like, so long as its Bergoglian.
Chaser: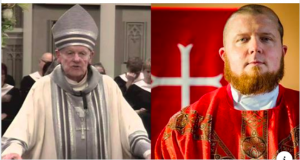 A priest for the Diocese of Saginaw, Michigan, has been removed from his parish by the diocesan administrator for causing division in the parish after introducing elements to the celebration of the liturgy — elements approved by the Church — considered "traditional."
Father Edwin Dwyer, a canon lawyer, was removed from his position Jan. 30 as parochial administrator of Our Lady of Peace parish in Bay City by Bishop Walter Hurley, who is serving as diocesan administrator for Saginaw after the sudden death of Bishop Joseph Cistone last October. The same day, Father Dwyer was also removed by Bishop Hurley from his position as chaplain for the Catholic community at Saginaw Valley State University (SVSU).
Bishop Hurley had sent a letter to members of Our Lady of Peace, dated Feb. 1 and published online, explaining his reasons for revoking Father Dwyer's assignment, effective Feb. 8.
"For some time now I have been aware of a number of issues, particularly with the liturgy, that have divided the parish community at Our Lady of Peace Parish, Bay City," Bishop Hurley wrote. "This is a serious concern in that our worship should draw us together, rather than divide. It is important that we seek ways to unite the parish in our common mission of being evangelizing disciples and grow in our relationship with Christ, each in our own way."
At his final Sunday Mass at Our Lady of Peace on Monday, Father Dwyer addressed his flock in a prepared statement obtained by the Register.
"It is very important for all of you to know," Father Dwyer said, "that it was not due to any allegation of misconduct of any nature on my part that Bishop Hurley decided to revoke my appointments as chaplain of SVSU and as parochial administrator of Our Lady of Peace Parish. My appointments have been revoked; I am not being removed for any wrongdoing."
~
Our friend Dale Price commented:
"The Desolation of Saginaw. Francis picked a man after his own heart to "administer" the diocese until he can install a permanent pick to renew the place into the grave. If there are more than a dozen parishes there in 2050, it will be the Holy Ghost's doing."
~
And isn't it hilarious that the parachute Bergoglian Boomer-Bishop is using the "unity, not division" dodge? I often wonder if they're really that deaf to their own bullshit or if they actually believe it and are just blind to the irony, or if they're snickering up their sleeves at us.
~