Is this the Faith you'll die for?
By Hilary White
How about this?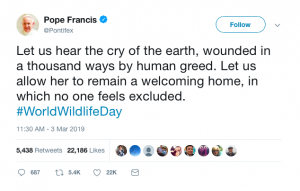 Hey, remember when no one could admit publicly to reading Mundabor?
Gute zeiten, eh?
This is the guy who has given scandals so many times in recent years one easily forgets half of them. He is happy to march together with inverted activist on St Patrick's parade, has not problem in taking part to a scandalous Met Gala that mocks the church, and has refused to excommunicate Governor Cuomo for his support to the Goebbelsian law allowing infanticide in the State of New York. Actually, he ha attacked those who want the man excommunicated. A more useful idiot (or accomplice) has the world seldom had.
You would think one like that has at least the decency to shut up and not try to dress himself as moraliser, or conservative, or both.
Wrong.
Fat guy tweets his own reflection about the latest fake Synod and the feast day of St Peter Damian, clearly hoping to polish his "conservative" credentials with some conservative tweeting after actually doing nothing in real life.
…
I remember the time when there weren't many places online where you could read open accusations of Cardinals and Bishops. One of those was, I must say, this little effort. But I must see, with great satisfaction, that the explicit language once the preserve of a handful of blogs has now become pretty much mainstream. I am also rather satisfied to report that the amount of messages criticising yours truly for criticising prelates has dwindled to almost zero. It appears that, in the end, the Catholic planet has opened its eyes.
I sort of remember this too. LifeSite used to get constant trouble about it.
Not so much anymore, I guess.
~