1st News Roundup of 2019: do not remove your helmets
By Hilary White
Since I can't seem to shake the journalist instinct, I'm going to have to start a new Thing on the blog: periodic news roundups, so I can get it out of my system in one go. What better day to start than the day we all more or less start thinking about getting back to work? So, suit up: stick on a CD of medieval carols, light a pine-scented candle, strap on your Santa hat and …
Long post ahead. I've done it in sections, so you can take it in bits.
~
Are we being herded?
So, there seems to be a Thing happening about Ecclesia Dei, the SSPX, the old Mass and whatnot…
Gagliarducci explains the basic stuff quickly:
After 30 years, the Pontifical Commission Ecclesia Deimight cease to exist. Established by St. John Paul II right after the Lefevbrist schism in 1988, in order to entertain a dialogue with traditionalist parties, the commission was reformed by Benedict XVI with the 2009 instruction Universae Ecclesiae. The instruction linked the commission to the Congregation for the Doctrine of the Faith, since the issues were now mostly doctrinal. Pope Francis might take it a step further, turning the commission into a mere office of the Congregation for the Doctrine of the Faith.
The news was given with certain concern by the traditionalist blog Messa in Latino on the 26th of December. The same blog added these revealing comment to the already published post: "The suppression of the Ecclesia Dei Commission corresponds to a long time wish of the St. Pius X Priestly Fraternity, that has always seen the commission as a guarantor of competitor traditional groups that are in communion with Rome."
I guess we have to talk about this for a few minutes:
A Pact Between Pope Francis and the Society of Saint Pius X for the Isolation of Tradition?
(Rome) More and more voices are dealing with the rumors that the Pontifical Commission Ecclesia Dei is about to be dissolved.
The two authors Fabrizio Cannone and Alessandro Rico see it as a papal maneuver to assassinate tradition from behind…
In recent days, the rumors have been nearly confirmed that Pope Francis in January 2019 will dissolve the Pontifical Commission Ecclesia Dei and their tasks will be transferred to the Congregation of the Faith.
"It's a decision that could hide a new chapter in the Vatican war between progressives and conservatives. With this step, Francis wants to start another offensive against his adversaries."
All of which seems to fit snugly with our friend Pat Archbold's four-part blockbuster series, which can be found here a their one-click site, laying down what's been done so far to herd all the remaining believers in the Church into an inescapable corner. The theory is pretty compelling, and as I've said I wouldn't put it past the guy who has already done it in his own archdiocese.
~
But it is true?
Here's the take of a friend of mine who goes to the SSPX places in his home country:
"If the idea is to quarantine the Catholic Faith by sticking the SSPX in a glass sided personal ordinariate or something it won't work. They have the wrong group. I would also say that the idea that the Society would wish to humiliate the other groups by going nah nah nah, look what we have is simply funny. If the Pope actually thinks that he can call in a favour mafia style (he did the Society a favour when the present General Superior was in Argentina) it is simply that he doesn't understand what the SSPX is about. My policy with all these rumours is to wait and see as I have seen first hand how damaging they can be."
Which is pretty good advice. We like to find things that are a bit sensational and turn them into facts by the power of Greyskull, but that's not the same thing as things that are really happening.
Properly speaking, we should have a headline something like: "Some Italians and American blogger Pat Archbold agree on what might happen…" but that's not going to butter many biscuits.
I just think it's useful to remind everyone that just because we might think it could be happening doesn't necessarily mean it really is happening. I think the last weeks of 2018 gave us all an important lesson in figuring out reality: Plausible ≠ True, and neither does "I saw it on the innernet". A plausible thing doesn't have to be a true thing because "plausible" just means, "fits what I already know or think I know," and as we all know, there's loads of stuff we don't know.
Journalism done properly is like science – you gather data in as "clean" a way as possible and you formulate hypotheses and then test them by providing enough information that others can begin repeating the experiment again and again in case there are factors that you can't rule out, or new data that comes along. All of which is to say that finding out what's true is almost a perpetual work-in-progress. We don't make claims of absolute truth about anything but doctrine; particularly not about politics or other stuff that is necessarily obscure like the goings on in the Vatican. We mustn't ever start to think that we can make up reality with the power of our brains.
The most we can say in honesty – and this is true for nearly everything we read about the current Vatican that isn't a direct quote – is, "It's somewhat plausible, and there is some evidence that, taken together could point in this direction. We'll have to wait to see what's what."
~
Francis-Fave Argentine bishop bans traditional Mass
We keep all this firmly in the front of our steady and firmly grounded-in-reality minds when we read the following:
Diocese of La Plata: violation of the Novus Ordo and limitation of the Tridentine Mass
December 17, 2018, the Archbishop of La Plata, Mgr. Víctor Manuel Fernández, promulgated a decree repealing "all previous archdiocesan norms referring to liturgical celebrations in general."
Who?
He's the guy who is generally acknowledged to have ghost written Amoris Laetitia.
This guy:
So, let's look at the background here; get ready for a twisty ride.
The story is that he issued an order banning the celebration of the Novus Ordo in Latin, any Mass facing the altar and of course the Mass of All Time. The story notes that "in the diocese of La Plata, some priests celebrated in Latin."
Now that name, La Plata, should ring a bell. We learned some time ago that it was the only see in Argentina anyone would consider doctrinally "conservative" and whose bishop, Hector Aguer, Bergoglio could not control. This is the Aguer who stood up to him, daring to embarrass the notoriously vengeful future pope by protecting a "conservative" religious order Bergoglio desperately wanted to crush.
There is a lot in the background of the – ahem – relationship between Pope Francis and the Institute of the Incarnate Word (IVE), his furious loathing of the order and determination to destroy them apparently coming from some mysterious dark place deep in his character that we are now seeing acted upon again and again. Much could be speculated about his peculiar hostility to faithful religious, but we must move on…
Suffice for these purposes to remind readers that Bergoglio had launched his soon-to-be-notorious weaponised "apostolic visitations" – "tender caresses" anyone? – of the order and had them dead to rights in his sights [reports of his muttering a gutteral, "I have you now," being unconfirmed,] when…
… in the 2007 "investigation" ended abruptly when [Vatican Secretary of State] Cardinal Sodano stepped in. The most powerful – and most sinister – of the "old school" cardinals in Rome, and the main protector of the Legionaries of Christ, Sodano set them up in Italy. "Then, according to reports from Argentina, Cardinal Angelo Sodano, now dean of the College of Cardinals, helped [IVE founder, Fr.] Buela and the IVE out of their problems with the Argentinian bishops. The IVE moved its headquarters to the diocese of Velletri-Segni, which is in Italy 37 miles south of Rome."
The abrupt cessation of hostilities and Sodano's extraordinary action in swooping in and rescuing the IVE is an indication of how poor the relationship really was between Rome and Buenos Aires at that time, the early years of Pope Benedict's pontificate. 
The long report in the Argentinian press is illustrative. It says that every bishop in Argentina but one, Héctor Aguer, the head of the of the Archdiocese of La Plata, opposed the IVE.
Aguer is known as the spokesman of the "conservative" wing of the Argentine Catholic Church, opposing sex education in schools, speaking out strongly against the legalization of abortion in 2006.
…
Sodano certainly orchestrated a decisive slap in the face for the Argentinian bishops when, in 2001, the Vatican sent the Bishop of Velletri, Andrea Maria Erba, to Argentina to ordain 49 priests of the IVE in Aguer's cathedral in La Plata, the largest group ordination in Argentina's history. 
Now that's gotta sting, and it sent an unequivocal message to the bishops – whose primate Bergoglio was – about whose side the Vatican was on.
Now, Fernandez has been a favourite of Bergoglio's since at least the late 90s, when the latter was engaged in "a years-long battle…against 'a conservative Argentine ecclesiastical lobby'" on behalf of his friend Fernández "to become rector of the Pontifical Universidad Católica Argentina. A lobby of which… Aguer was a part."
Here's Steve moving his face telling you about it:
(I've been friends with Steve for 15 years, and I still can't get used to seeing his face move…)
So, when Bergoglio ordered Aguer to vacate his diocese "immediately" in June last year, and put his old pal Tucho in Aguer's place, it was something in the order of very public and pointed payback. Tenderly caressing his enemies…
So pointed, in fact, that the conflicts between Bergoglio and Rome over Fernandez comes out in unusually frank terms in even the normally anodyne English language Wikipedian biography:
On 15 December 2009, after being nominated by Cardinal Bergoglio, he became rector of the Pontifical Catholic University of Argentina. He took his oath of office on 20 May 2011, when his designation received confirmation from the Congregation for Catholic Education. He first had to answer objections to his appointment made to the Congregation for the Doctrine of the Faith (CDF). Bergoglio resented this questioning of his judgment and Fernández found the process itself disrespectful when he traveled to Rome only to have the CDF cancel a meeting at the last minute. He left the position of rector on 25 April 2018.
Let's not forget that this was the CDF under Gerhard Muller, whose best men working on the problem of priestly sex abuse Bergoglio abruptly ordered sacked.
Maike Hickson fills us in:
Not only did the pope accept the resignation of Archbishop Aguer within just a few days of its mandatory submission, he also ordered him, through the nunciature, to immediately leave the diocese and not to remain there for his retirement.
A tender message for all to read, particularly in South America. 
"Tucho" – as he is reportedly called informally – Fernandez was one of the supporters Francis lost no time in rewarding, having him tenderly consecrated a bishop on 15 June 2013 through his proxy/puppet Mario Aurelio Poli and moved him steadily up the ladder ever since. (The only one he was hotter off the mark raising to his protection was Jose Rodriguez Carballo, but the increasing interest of law enforcement might have bumped him up the schedule.) He's thought to be the ghost writer for more than Amoris Laetitia – his magnum opus – but for much of Laudato Si and the Bergoglian Pontificate's manifesto, Evangelium Gaudium as well.
(Incidentally, run the word "Tucho" through Google Translate with the "detect language" setting on.  Since this is supposed to be a family-friendly site I won't post the result here, but I can't imagine it's an accident.)
He has served as a mouthpiece several times when high ranking opposition has come at his protector. Last year he had a bit of a go at his old pal Cardinal Müller and issued a tender kiss threat against Cardinal Sarah, in case the latter was getting any ideas…
Bishop Fernandez: "Did not we often ask ourselves why Cardinal Müller should not be dismissed, since he did not hide from adhering to a line of thought very different from that of the Pope and criticized him at the same time? We also see Cardinal Sarah, who continues to propose to start celebrating mass by putting his back to the people."
Payback's sweet… and tender…
~
Meanwhile, the Church continues it's apocalyptic slide into the sea…
Cardinal Marc Ouellet, head of Bishops, has reprimanded the head of the USCCB, poor old DiNardo, for daring to suggest that the bishops do something to stop homosexual priests preying on boys and seminarians.
Something something… collegiality… something synodality…
The Vatican blocked U.S. bishops from taking measures to address the clergy sex abuse scandal because U.S. church leaders didn't discuss the legally problematic proposals with the Holy See enough beforehand, according to a letter obtained by The Associated Press.
The Nov. 11 letter from the Vatican's Cardinal Marc Ouellet provides the primary reason that Rome balked at the measures that were to be voted on by the U.S. Conference of Catholic Bishops at its Nov. 12-14 meeting. The blocked vote stunned abuse survivors and other Catholics who were demanding action from U.S. bishops to address clergy sex abuse and cover-up.
Ouellet's letter undermines the version of events provided by the conference president, Cardinal Daniel DiNardo. It could also provide fodder for questions during a spiritual retreat of U.S. bishops, dedicated to the abuse crisis, that opens Wednesday in Chicago.
…
"Considering the nature and scope of the documents being proposed by the (conference), I believe it would have been beneficial to have allowed for more time to consult with this and other congregations with competence over the ministry and discipline of bishops," Ouellet wrote to DiNardo.
Such back-and-forth, he wrote, would have allowed the documents to "properly mature."
…
DiNardo stunned the bishops when he opened the assembly Nov. 12 by announcing that "at the insistence of the Holy See" the bishops would not be voting on the measures after all. He said the Vatican wanted them to delay a vote until after Pope Francis hosts a global summit in February on preventing sex abuse by priests.
… It is not surprising that Rome wanted a say in crafting the text, given the Holy See has exclusive authority to investigate and discipline problem bishops.
"While fully aware that a bishops' conference enjoys a rightful autonomy … to discuss and eventually approve measures that are within the conference's powers, the conference's work must always be integrated within the hierarchical structure and universal law of the church," Ouellet wrote.
Oh, and were you wondering if they're going to start standing up to the Vatican thugs?
It seems clear that the priority now is not the truth, not ending the crisis, not confronting sex abuse, but assuring the pope they're going to be good little boys.
~
And speaking of payback… it's The O'Malley and Dolan Show!
In a letter dated Dec. 21, O'Malley draws the nuncio's attention to the case of Fr. Donald Timone, a priest of the archdiocese of New York, whom Dolan allowed to remain in active ministry — even calling him "remarkably tender and holy" in 2013 — after he knew of the credible allegations of sex abuse.
The story about Timone broke in a recent New York Timesarticle, which detailed that Dolan compensated two of Timone's victims and allowed him to remain in active ministry, even as recently as this week.
Keep laughing, Cardinal Dough-boy.
There's really only a couple of useful things to remember about this: Dolan was one of the 13 signatories of the objection letter waaaaaay back at the first Synod on the Family complaining about how the process was being manipulated. Remember that? But O'Malley was smart enough to see which side of the bread the butter was on, and kept his mouth shut.
And it was Dolan who allowed the information to be released about McCarrick's having crossed the legal line. And he hasn't been playing the game much  being reportedly somewhat unimpressed with Francers and his methods. Inside scoop is that Dolan loathes Francis. Which surprises me. I didn't think he ever stopped guffawing long enough to notice what's going on around him…
Whereas O'Malley is a firm favourite of the pope, still on his C9 (or C8… or is it C7 now? I can't remember how many have been recalled by their home countries to face abuse charges…)
What's the purpose of O'Malley outing Dolan now? It's a signal to anyone who might get any wild ideas about clearing his conscience and coming clean, and a reminder who's really in charge.
Remember what Vigano said about how many knew about McCarrick?
"Everyone."
"Really, everyone?"
"Yes. EVERYone." 
Apart from the straight issue of complicity, this means that every single bishop in the world is open to manipulation through threats. We've not just got the Church of Holy Gayness, we've got the Episcopate of Blackmail, the Church of Extortion.
And our old pal Braz de Aviz of the Congregation for Religious has just confirmed that they've got the files on the sex abusers, going aaaaall the way back.
Cardinal João Bráz de Aviz, prefect of the Congregation for Institutes of Consecrated Life and Societies of Apostolic Life, has disclosed that the Vatican had documents on the abusive conduct of the disgraced founder of the Legionaries of Christ, Father Marcial Maciel, from as long ago as 1943.
Update: guess who was the first to call for an investigation of Maciel?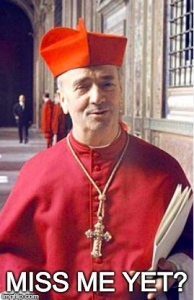 G'head … guess…
~
A third of convicted priest sex offenders let off the hook by Bergoglian Dream Team
Umm… yeah. How's that working out for y'all?
…the panel, headed by Abp. Charles Scicluna of Malta, [remembering that this is the bishop who signaled the pope what a good boy was he by threatening his priests and seminarians to get on board with the handing out of h. Communion to unrepentant public adulterers. hjw.] has rejected recommendations to defrock at least 15 sex abusers, instead reducing their punishments to temporary suspensions ranging from 3–5 years. The clergy come from various countries, including Mexico, Peru and Francis' former country of Argentina.
…operates within the Congregation for the Doctrine of the Faith (CDF), and hears appeals from clergy accused of sexual misconduct.
Formerly, such appeals were heard before the full Congregation, consisting of approximately two dozen prelates, and were rarely successful. Now, about one third of cases on appeal succeed in getting an abuser's penalty diminished, or thrown out altogether.
Need a laugh? Click here
~
And last, but hardly least: Pope still hates Mary
… or at least, plainly does not believe what the Church teaches about her special attributes.
The problem with doing these things is knowing where to stop. But I think we can turn this to the good.
From Tornielli we receive probably the most accurate representation of the Pope's address for the Feast of the Mother of God (Circumcision… known to the heathen as "New Year's Day") in which we receive the latest Lutheran nonsense (recalling that he thinks that every word that droppeth from his sacred lips is what he think of as "my magisterium")…
"From the moment she was born until the Annunciation, to the moment she encountered the angel of God, I imagine her as a normal girl, a girl of today, I can't say she a city-girl, because she is from a small town, but normal, educated normally, open to marrying, to starting a family. One thing I imagine is that she loved the Scriptures: she knew the Scriptures, she had done catechesis in a family environment, from the heart. Then, after the conception of Jesus, she was still a normal woman: Mary is normal, she is a woman that any woman in this world can imitate. No strange things in life, a normal mother: even in her virginal marriage, chaste in that frame of virginity, Mary was normal. She worked, went shopping, helped her Son, helped her husband: normal".
"Normality is living among the people and like the people. It is abnormal to live without roots in a people, without connection with a historical people. In such conditions a sin – very much liked by Satan, our enemy- is born: the sin of the elite. The elite does not know what it means to live among the people and when I speak of the elite I do not mean a social class: I speak of an attitude of the soul. One can belong to a Church elite. But, as the Council says in Lumen Gentium, the Church is the faithful holy people of God. The Church is the people, the people of God. And the devil likes the elite.
"The re-creation begins with Mary, with a single woman," says Pope Bergoglio. "Let's think of the single women who run the house, who alone raise their children. Mary is even more alone. Alone, she begins this story, which continues with Joseph and the family; but at the beginning recreation is the dialogue between God and a single woman. Alone in the moment of proclamation and alone the moment her Son died".
It's a bit hard to tell, what with all the vague and fuzzy blither, but I think he means there's really nothing inherently special about Our Lady, and that she's not an "elite" – which is a bad thing to be – and that makes her "one of the people" – which is good, because apparently that's a thing that we should be worried about. For some reason.
But let's just do a quickie little "teaching moment" on Our Lady, shall we? I suspect that far, far too many people in the Church would see nothing objectionable whatever about this "Mary's a normal person" schtick Bergoglio seems to love so much.
Let's just put this as simply as possible: Mary isn't "normal". Mary is special. Very special.
The special veneration we must have as Catholics for Our Lady, queen of heaven, of all the angels and saints, is unique, and has a particular name: "hyperdulia". The word distinguishes Our Lady's position between "dulia" – the veneration proper to the saints – and "latria" that worship and adoration reserved for God alone.
St. Irenaeus of Lyons called her the "second Eve" because through her "fiat," her submission to the will of God, He undid the catastrophe of the Fall, caused by the first Eve. St. Ambrose, first to call her "Mother of the Church," said she is "devoid of any defect or imperfection, radiant with exceptional greatness and holiness."
She was intended as the Mother of God from all eternity, and prefigured as such dozens of times in Scripture. She is the bridge between the Old and the New Covenants, the Old and New Testaments. Her role in salvation history is as the living embodiment of the Ark of the Covenant, she is the new Eve working with the new Adam to "crush the head" of the serpent and defeat all his intentions.
She is compared to the ladder of Jacob, by which heaven comes down to earth, and to Noah's Ark, through which the world was rescued from doom.  She is granted a universal salvific mission as part of that of her Son. And finally she is seen in Revelation: "And a great sign appeared in heaven: a woman clothed with the sun, and the moon under her feet, and on her head a crown of twelve stars"
Here's some more stuff about it.
To get the foul taste of the cold Bergoglian muck of brimstone and dead ashes out of your mind, here's St. Ambrose:
Who is greater than the Mother of God? Who is more glorious than the one whom Glory itself chose? Who is more chaste than the one who bore a body without contact with another body?
For why should I mention her other virtues? She was a virgin not only in body but also in mind. No guile stained her sincerity. She was humble in heart, serious in speech, prudent in mind, sparing of words, studious in reading. She put her hope not in riches but in the prayer of the poor. There was nothing gloomy in her eyes, nothing forward in her words, nothing undignified in her acts. There was not a foolish movement, not an unrestrained step. She was never irritable.
And again…
The first thing that kindles ardor in learning is the greatness of the teacher. What is greater [to teach by example] than the Mother of God? What more glorious than she whom glory itself chose? What more chaste than she who bore a body without contact with another body? For why should I speak of her other virtues?
She was a virgin not only in body but also in mind, who stained the sincerity of its disposition by no guile, who was humble in heart, grave in speech, prudent in mind, sparing of words, studious in reading, resting her hope not on uncertain riches, but on the prayer of the poor, intent on work, modest in discourse; wont to seek not man but God as the judge of her thoughts, to injure no one, to have goodwill towards all, to rise up before her elders, not to envy her equals, to avoid boastfulness, to follow reason, to love virtue. When did she pain her parents even by a look? When did she disagree with her neighbors? When did she despise the lowly? When did she avoid the needy?
In this way her outward appearance itself became the image of her soul, the representation of what is approved. We ought to be able to recognize a well-ordered house on the very threshold: it should show at the very first entrance that there is no darkness hidden inside it. In the same way our soul, hindered by no bodily restraints, should shine forth like a lamp placed inside.
~
Here's a nice little thing we can all do: sing the Litany of Loreto in reparation.
~